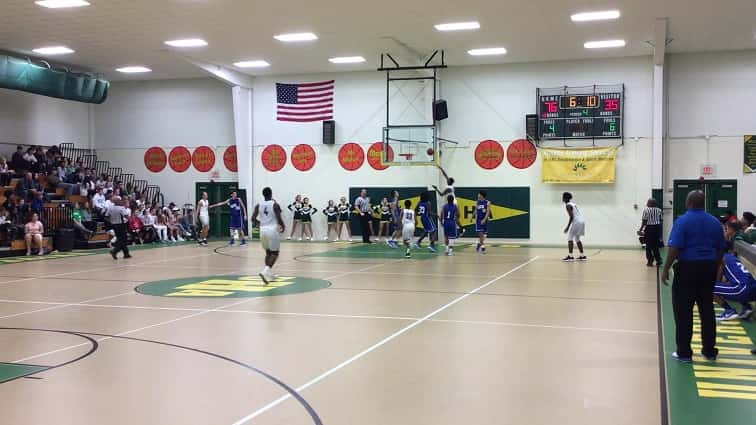 The UHA boys' basketball team got its first win of the season on Saturday night, cruising past the Fort Campbell Falcons 96-47.  The Blazers are now 1-1, 1-0 in the 8th District, while the Falcons fall to 0-3.
The Falcons kept it close in the first quarter, only trailing 19-11, but the Blazers blew the game open in the second quarter.  With junior guard KyKy Tandy in foul trouble, junior guard Drew McGowan and freshman guard KJ Crump picked up the slack, with McGowan scoring 21 first half points and Crump adding 9.  The Blazers outscored the Falcons 32-10 in the second quarter, taking a 51-21 lead into halftime.
Tandy returned to the court and took over the game, scoring 16 second-half points, including an incredible windmill dunk that brought everyone out of their seats.  However, the Falcons continued to compete, led by junior Cameron Johnson, and were only outscored 19-11 in the third quarter.
The Blazers took a 70-32 lead into the fourth quarter, and coasted in from there, winning 96-47.  McGowan led the Blazers in scoring with 25 points, with Tandy turning it on late to put up 20.  Junior forward TaQuan Hollowell added 15, and senior forward Malik Lovan had 12.
Cameron Johnson had a big game for the Falcons, continually attacking the rim and recording 21 points and 9 rebounds.  Sophomore DeAndre Jackson and Marcus Averhart both had 6 and 2, with Ryan Sollom scoring 5 and pulling down 5 boards.  Senior Austin Mergele put up 5 and 3, and sophomore Jordan Clark chipped in 4 and 4.
UHA doesn't return to action until December 12 when they host the Hopkinsville Tigers (1-0) in a big 8th District showdown.  The Falcons welcome 2-0 Trigg County to post on Tuesday.