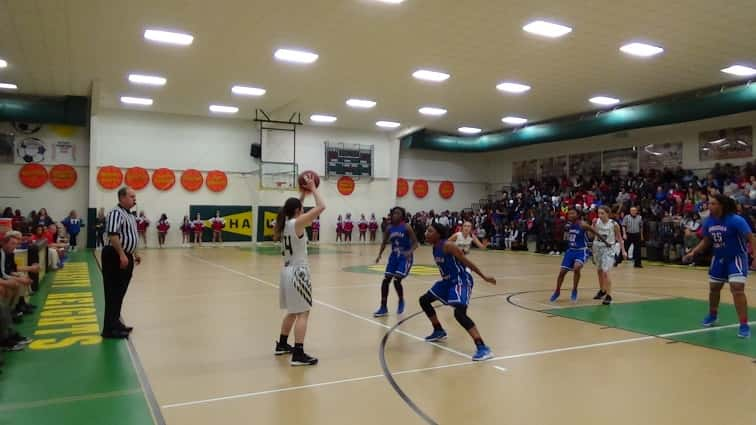 The Christian County girls' basketball team blitzed the University Heights Lady Blazers early, and cruised in for a 64-26 road win on Tuesday.  The Lady Colonels continue a four-game winning streak and now stand at 14-4, while the Lady Blazers fall to 5-9.  Christian County remains perfect in 8th District play at 2-0, with UHA at 1-2.
The Lady Colonels streaked to a 14-0 lead with 4:30 to play in the opening quarter, before sophomore guard Lily Hendricks got the Lady Blazers on the board.  UHA would only be outscored 8-5 for the remainder of the quarter, but the damage was done and the Lady Colonels led 22-7 after the first eight minutes.
The second quarter began like the first, with the Lady Colonels going on a 12-0 run, capped by a three-pointer by senior guard Laderia Gold, to stretch the lead to 34-7 with just over five minutes left until the half.  After Hendricks went 4-4 from the free throw line to make the score 46-15, sophomore guard Lydashe Bell knocked down a three with thirty seconds left for the 49-15 halftime lead.
Freshman forward Trinity McGee led the Lady Colonels with 13 first-half points, followed by Gold's 12.  Senior center Trinitee Jackson scored 10.  Hendricks finished the half with 9 to lead the Lady Blazers.
UHA came out in the third quarter and showed some resolve, putting 10 points on the board and holding the Lady Colonels to 9.  With the game decided, both teams subbed heavily in the final quarter, leading to little scoring and a final score of 64-26.
Hendricks' 17 led all scorers, but no other Lady Blazer scored more than junior forward Anna Fitzpatrick's 4.  Junior guard Alex Juckett and sophomore guard Aniah Dailey both had 2, and Naliscya Hall scored a point.  UHA was once again without senior leading scorer Anshanique Leavell.  For the Lady Colonels, McGee scored 16, followed by Gold's 12, and Jackson with 10.  Junior guard Aaliyah Hampton chipped in 7, and sophomore guard Lydashe Bell had 6.  Junior guard Bianna Snorton finished with 5, Kinara Phillips had 4, and sophomore forward Eniya McGee and freshman forward Serenity Shemwell both had a bucket.
Up next for the Lady Blazers is a Friday trip to post to face Fort Campbell (0-11), where they will look to even their district record at 2-2.  Christian County also have a game coming up on Friday, as they go to Tiger Gym to face off with crosstown rival Hopkinsville High School (14-5) with the top spot in the 8th District on the line.