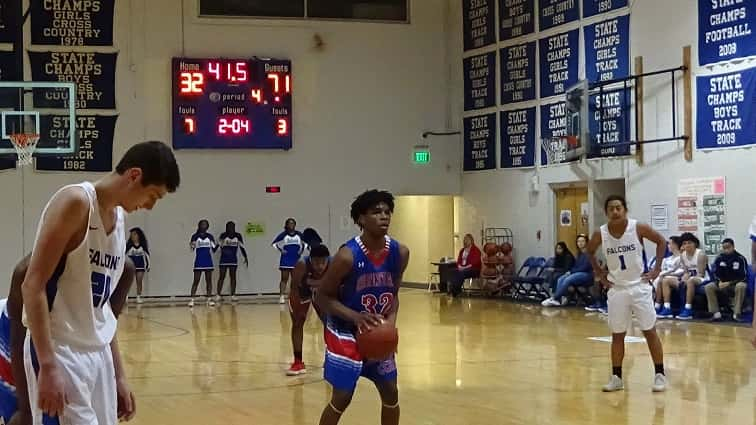 The Christian County boys' basketball team started the game with a 19-0 run, going on to beat hosts Fort Campbell 73-32 on Monday night.  The Colonels were without the services of senior forward, and freshly-minted 2000 point scorer, Detorrion Ware due to illness.  The win is the fifth straight for the Colonels, taking them to 15-6 on the year, and 4-0 in district play.  The Falcons have dropped six straight, slipping to 3-17, and remain winless in the district.
Colonels' senior guard Cory Trice scored on a layup off the opening tip, igniting a 19-point explosion over the first three minutes of the game.  By the time the Falcons got on the board, a three pointer by freshman guard Marcus Averhart, they were down 19-3 with 4:31 to play in the first quarter.  The Colonels put together another run, this time 18-0, and took a 37-3 lead into the second quarter.
The Falcons found their bearings in the second quarter, opening with back to back three pointers by Averhart and junior forward Cameron Johnson.  However, after freshman Darrin Bussell put back his own miss, the Colonels took their largest lead at 53-15 into the halftime locker room.
Trice paced the Colonels with 16, followed by senior forward Kolbe Langhi with 12.  Averhart's two three pointers led the Falcons.
Langhi opened the second half with 4 straight points, pushing the lead to 57-15 with 6:48 left in the third.  Sophomore Stephon Bussell knocked down a three with :12 on the clock, and the Colonels led 66-26 with eight minutes to play.  Neither team put up many points in the fourth quarter, with the Colonels outscoring the Falcons 7-6 for the final 73-32 score.
Trice and Langhi both finished with 16 points for the Colonels, all in the first half.  Junior guard DT Babb had 12, and sophomore guard Damikeon Mathis scored 8.  Stephon Bussell and junior forward Fred Tandy had 5 each, while sophomore Shay Stowe and senior forward JaQuon Long both scored 4.  Darrin Bussell had a basket, and senior Jordan Johnson added a point.
Johnson and senior guard Austin Mergele scored 8 each to lead the Falcons, followed by Averhart and senior forward Ryan Sollom with 6 a piece, and sophomore forward Jorden Clark with 4.
The Colonels are back in action on Tuesday, hosting University Heights Academy (14-6) in the chase for the top seed in the 8th District tournament.  Christian County beat the Blazers 84-75 on January 31, handing them their first district loss.  The Falcons host Dawson Springs (7-14) on Thursday, having already dropped two games to the Panthers this season.