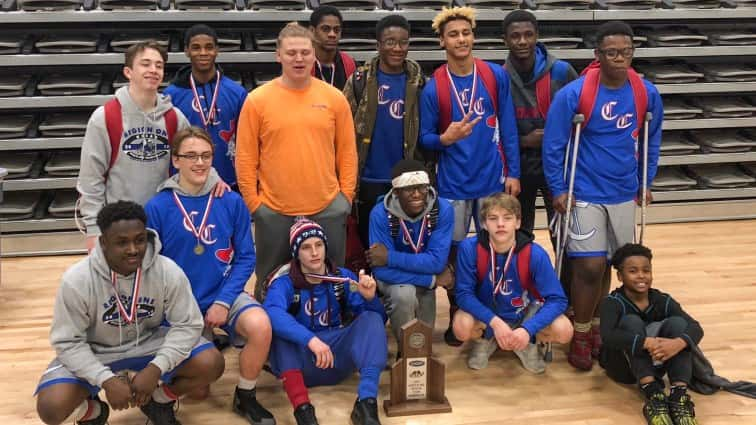 Christian County qualified 10 wrestlers for next week's KHSAA State Wrestling Tournament and finished second as a team.
The Colonels had three wrestlers win their weight class and five more finish in second place.
Austin Gibson, the 14th ranked wrestler in the state, recorded three pins to win the 113-pound class. He beat Caldwell County's James Jones in less than a minute in the semifinals and pinned McCracken County's Michael Conner (No. 18) in the championship match.
No. 6 Jakerion Merritt took first place in the 132-pound class, knocking off the state's No. 3 wrestler in Union County's Payne Carr. Merritt won the title match in a 10-5 decision.
No. 13 Neal Aldridge won the 145-pound class with an impressive 4-3 decision of Union County's Trevor Pogue, the state's 11th ranked wrestler, in the title match. He advanced to the championship with a pin of Caldwell County's Tristian Tinsley in the semifinals.
No. 7 Gage Fowler finished second in the 106-pound class, pinning his first two opponents before falling to Caldwell County's Dylan Walls 10-8 in overtime of the championship match. Walls is ranked third in the state.
No. 10 Ethan Wells finished second in the 120-pound class, losing to the top-ranked wrestler in the state, Union County's Gabe Adams, 13-0 in the title match.
The 182-pound weight class featured two of the top three wrestlers in the state. No. 3 Diion Leavell finished second to No. 2 Dylan Gray of Caldwell County in the title match by a 7-6 decision.
Cameron Coleman finished second in the 160-pound class, losing to Trigg County's Colin Stevens by fall in the title match.
Niko Bussell took second place in the 195-pound class, falling to Union County's Mathias Ervin by a 6-3 decision.
Ishmael Griffie finished third in the 138-pound class. He lost to McCracken County's David Conner by fall in the semifinals but rebounded to pin Hopkinsville's Max Dubois in the third place match.
Michael Elkins finished third in the 285-pound class, pinning Fort Campbell's Darion Dunn to advance to the state tournament.
Other Christian County wrestlers who placed but failed to qualify for the state tournament were TyDarius Kelly, fifth place in the 170-pound class and Timmie Dunham, sixth in the 152-pound class.
Colonel junior Markus Green was headed toward qualifying for the state tournament and was leading his match with Ohio County's Dylan Marlow when he suffered a leg injury that made it impossible to continue wrestling. Green finished in sixth place.
Christian County totaled 219.5 points to finish second to Union County, who won their 15th straight region title with 271.5 points. McCracken County (203) was third, and Caldwell County (114.5) was fourth.