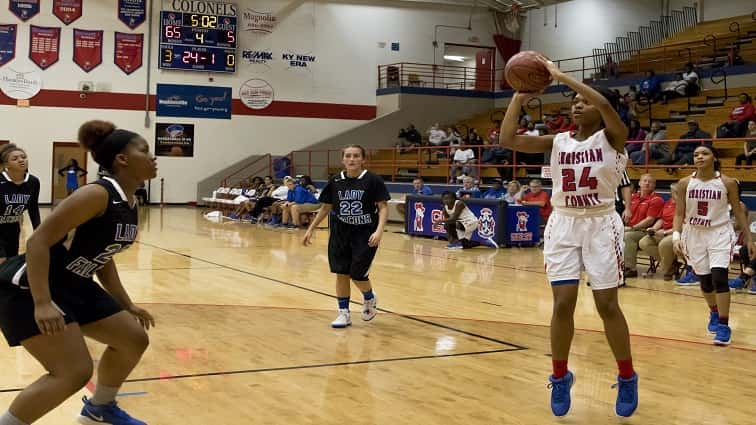 The Christian County girls' basketball team eased into Thursday's 8th District championship game with a 71-7 win over Fort Campbell on Monday night.  The Lady Colonels snap a three-game losing streak to improve to 20-7, and await the winner of Tuesday's game between Hopkinsville and UHA.  The Lady Falcons end their season at 0-25.
The Lady Colonels built up a 26-0 lead, spearheaded by 12 points from junior guard Aaliyah Hampton, and pulled the starters for good with 2:26 left in the first quarter.  Hampton was playing in her first game since February 2nd against Hopkinsville, after recovering from a knee injury.
Christian County led 34-0 after the first eight minutes, and 45-3 at the halftime break.  Hampton's 12 points led the Lady Colonels, followed by freshman guard Amari Brown with 7.  Junior forward Savannah Porter had 3 for the Lady Falcons.
After three quarters, the lead was 60-5, and the Lady Colonels went on to win 71-7.  Hampton led all scorers with 12, followed by 8th grade guard Destinee Catlett-Watkins with 10.  8th graders Leila Lee and Mikayah Killebrew both scored 9, Brown had 7, and sophomore guard Lydashe Bell and senior center Trinitee Jackson both had 6.  Freshman forward Trinity McGee and junior guard Bianna Snorton both scored 4, with senior guard LaDeria Gold and junior guard Kinara Phillips finishing with 2 each.  8th grader Jordan Wilson led the Lady Falcons with 4, and junior forward Savannah Porter scored 3.
The Lady Colonels will play the winner of Hopkinsville and UHA in Thursday's championship.  Christian County swept both the Lady Tigers and the Lady Blazers during the regular season.