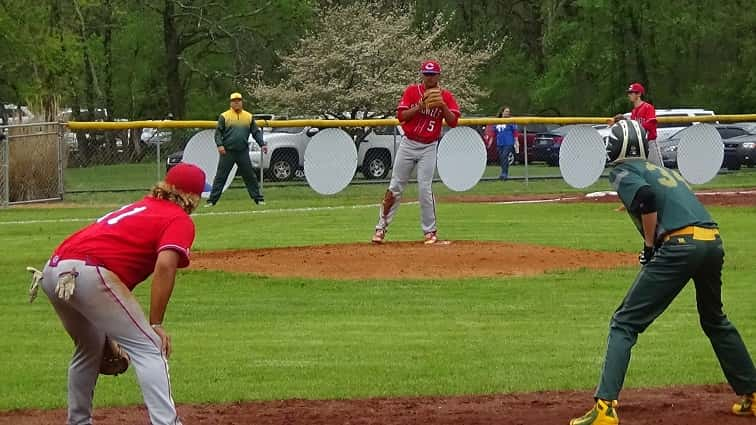 Christian County needed thirteen innings to beat hosts UHA 4-2 in an 8th District match-up on Tuesday night.  The teams were scheduled to play a doubleheader, but with the first game chewing-up time and pitchers the decision was made to reschedule the second game.  The victory is the Colonels' fifth in seven outings, improving their record to 7-9.  The Blazers lose their fifth-straight to slip to 5-8 on the year.
Both starting pitchers turned in strong performances, with UHA junior Drew McGowan going seven innings and Colonel junior Lane Diuguid lasting three.  Christian County got a run in the first on an RBI single by Diuguid, but that would be all McGowan would allow.  Diuguid also only yielded a single run, with McGowan returning the favor with an RBI single in the bottom of the third.
Neither team would score again until the top of the twelfth, when the Colonels took advantage of a Blazer error to take a 2-1 lead.  After three walks in the bottom of the inning loaded the bases for UHA, 8th grader Dustin Moon tied the game with an RBI sacrifice fly to left field.
After sophomore Keith Stallins singled, a Blazer error on a sacrifice bunt allowed him to go to third.  Senior Cameron Crider bunted and Stallins beat the throw home to give the Colonels a 3-2 lead.  Junior Patrick Croney followed with an RBI single to double the lead, before junior Wyatt Stevenson coaxed three fly-ball outs in the bottom of the inning to finish-off the Colonel win.
Stevenson earned the victory, pitching the twelfth and thirteenth innings while allowing a run on no hits with a strikeout and three walks.  Diuguid and junior Austin Fields were the only Colonels with two hits, with Diuguid knocking-in a run.  Diuguid pitched the first 3.0 frames and allowed a run on three hits with a couple of strikeouts.  Junior Eric Silvy threw 5.0 innings and struck-out two and walked two with only one hit.  Junior Jase Polley went 3.0 innings, striking-out three and giving-up three hits.  Stallons, Croney, and sophomore Bryson Brown each had a hit, and Croney and Crider both had an RBI.
Freshman Luke Welch took the loss, going the last six innings and giving up 3 unearned runs on five hits with seven strikeouts and a walk.  McGowan led the Blazers with two hits and an RBI, also pitching seven innings with only four hits and a run, while striking-out fourteen and walking three.  Sophomore Tanner Thomas, junior Dan Johnson, 8th grader Eston Glover, junior Zach Naylor, and Moon all had a hit.
The game's twenty-nine combined strikeouts is the ninth-most in an extra-inning game in state history according to the KHSAA.  The record is forty-nine.  McGowan and Welch struck-out a combined 21 Colonels, the fifth-most by a single team in a game that went extra innings.  The state record is 28.
Christian County will go on the road this weekend to compete in the Louisville Invitational Tournament.  They are scheduled to play Tates Creek (8-5) on Friday, followed by games with Eastern (8-9) and North Bullitt (3-13) on Saturday.
UHA will also be in action on Saturday, hosting the 10-5 Henderson County Colonels.