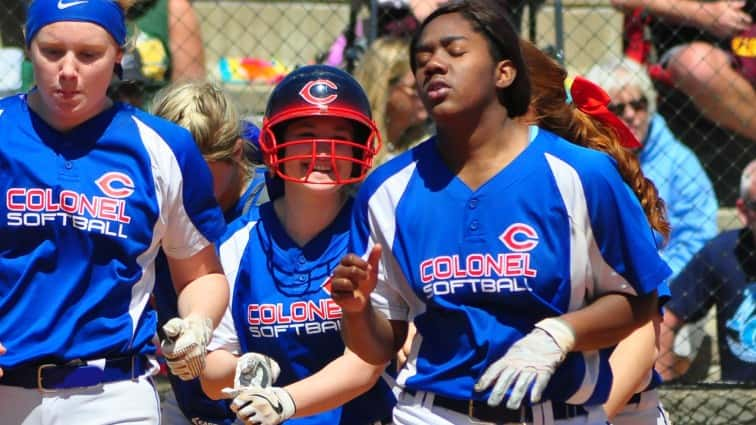 Christian County continued rolling right along against Kentucky opponents as they swept a pair of games from Fourth Region opponents Logan County and Greenwood Saturday.
The Lady Colonels took advantage of the wind howling out to centerfield to smack three over the fence in a 15-4 five-inning win over Logan County in the opener.
The Lady Cougars struck first when Sydney Lee cleared the centerfield fence for a two-run homer in the first inning.
Hope Jones continued her torrid pace for the Lady Colonels in the home half of the first with a three-run blast to give Christian County a 3-2 lead.
The Lady Colonels broke the game open with seven runs in the second inning. Macy Lancaster scored two runs with a single. She scored on a double by Pickle Winkler, who then scored on a home run by Emmy Blane. A sacrifice fly by Reni Shemwell and a Taylor Shemwell RBI single gave the Lady Colonels a 10-2 lead.
RBI doubles by Brea Croslin, and Lee saw Logan County pull to within 10-4 in the third inning.
Lancaster led off the bottom of the third with a towering home run to left-centerfield – her first career roundtripper.
Jones and Reni Shemwell added RBI singles for a 14-4 lead.
Lexie O'Daniel's RBI single in the fourth inning rounded out the Lady Colonel scoring.
Christian County rapped out 15 hits as every starter had at least one hit.
Lancaster had her best game at the plate this year with three hits and three RBIs. Jones added two hits and four RBIs, and Winkler O'Daniel, and Taylor Shemwell each had two hits and an RBI.
Lee led Logan County (11-5) with three hits and three RBIs.
Regan Hancock picked up the pitching with three strikeouts in four innings.
In the second game of the day, Christian County's bats weren't explosive against Greenwood, but the pitching and defense held the Lady Gators to just two hits in a 7-1 win.
The Lady Colonels broke a 1-1 tie in the second inning with four runs, highlighted by a two-run double by Halle Hendricks, and RBI single by Pickle Winkler, and an RBI double by Emmy Blane.
Hope Jones added her second home run of the day – a solo shot – in the sixth inning. Jones finished the game with three hits, while Hendricks drove in three.
Lexie O'Daniel, who hit a solo home run in the first inning, combined with Hannah Sumner on a two-hitter. O'Daniel allowed one earned run and struck out four in four innings pitched. Sumner pitched three hitless innings to pick up the save.
Christian County (18-3) has won 16 games and tied Male while remaining unbeaten against Kentucky schools. The win was also the Lady Colonels' second over Greenwood this year and fourth straight against the Lady Gators (8-14).
Christian County will host Graves County Monday.