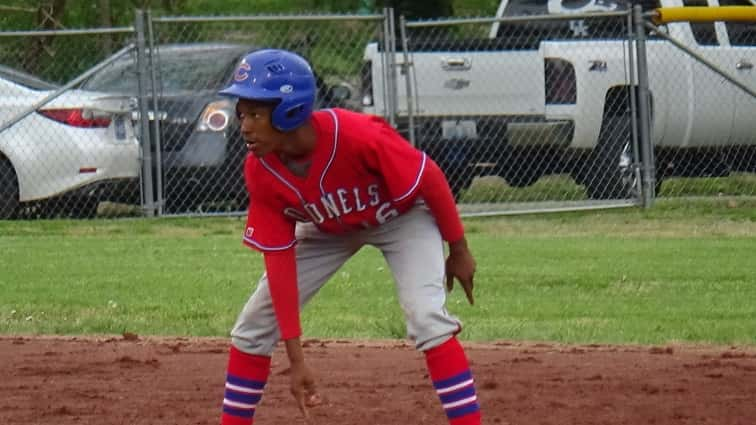 The Christian County Colonels had mixed fortunes on their second day of competition in the Louisville Invitational Tournament, beating North Bullitt 11-1 before falling 7-0 to host Eastern High School on Saturday afternoon.  The results leave the Colonels, winners of four of their last five, at 9-10 on the year.  North Bullitt has lost its last three to slip to 5-16, while Eastern has racked-up five straight wins to improve to 12-9 overall.
An error followed by an RBI single by senior Cameron Crider gave the Colonels a 2-0 lead over North Bullitt in the opening inning.  The Eagles got a run back in the top of the second, before Crider drove in another run with a sacrifice fly to restore the 2-run lead in the bottom of the third.
Both offenses were quiet until the bottom of the fifth when the Colonels erupted for 8 runs to blow the game open.  Junior Jase Polley got it started with an RBI double before Crider came through again, reaching on an error to bring around Polley.  Two errors and a wild pitch allowed in the next 2 Colonel runs, with an RBI from junior Eric Silvy on a fielder's choice in between.
Silvy continued his dominance of the Eagles' lineup over the final two frames to earn the win, allowing a single run on five hits with three strikeouts and two walks.  Crider and junior Wyatt Stevenson both had 2 RBI, followed by Silvy with two hits and a RBI.  Polley and juniors Austin Fields and Payton George each had a hit and an RBI, and sophomore Keith Stallons had a hit.
Senior Blake Bonn took the loss for North Bullitt, working 4.1 innings while allowing 7 runs, 4 earned, on seven hits with three strikeouts and a walk.
There would be no offensive explosion for the Colonels in the second game, as Eastern junior Trent Robinson pitched 6.0 innings, scattering three hits while striking-out six and walking three for the win.  The Eagles scored 4 runs over the third, fourth and fifth innings, before adding 3 in the sixth for the final 7-0 score.
Stevenson took the loss for the Colonels, pitching 5.0 innings and allowing 4 runs, 3 earned, on six hits with nine strikeouts and a walk.
Up next for the Colonels is an 8th District match-up on post against Fort Campbell on Tuesday.