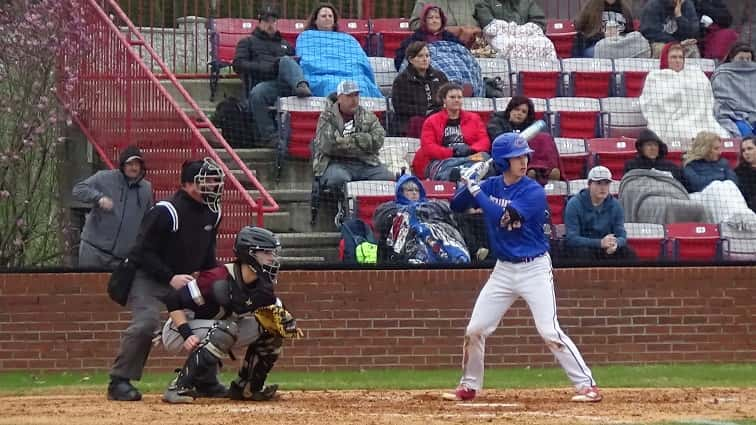 The Christian County Colonels took advantage of ten Fort Campbell errors on their way to a 26-3 victory on post on Tuesday night.  The Colonels win their second-straight to even their record at 10-10, 4-0 and first place in the 8th District.  The Falcons fall to 3-9 overall, 0-4 in district play.
The Colonels took the lead in the top of the first with 4 runs, but the Falcons answered with 2 of their own in the bottom of the inning.  However, the Colonels erupted for 13 in the third, effectively ending the game.  They would add a run in each of the fourth and fifth frames on the way to the victory.
Junior Lane Diuguid earned the win for the Colonels, working 2.0 innings while allowing 2 runs, 1 earned, with six strikeouts and a walk.  Freshman Daniel Lopez pitched 3.0 innings, yielding a run on a hit with six strikeouts and a walk.  Diuguid was also 2-3 at the plate with 3 RBI, followed by sophomore Keith Stallons with a hit and 3 driven-in.  Junior Jase Polley had 3 RBI, junior Austin Fields had a hit and 2 RBI, with junior Eric Silvy, freshman Cole Ezell, sophomore Bryson Brown, and senior Cameron Crider each posting a hit and an RBI.  Freshman Dylan Lee and junior Patrick Croney each knocked-in a run, and freshman George Forrest and junior Wyatt Stevenson each hit-safely once.
Sophomore Andrew Syester took the loss for the Falcons, lasting 2.0 innings while surrendering 15 runs, 11 earned, on only four hits.  He struck-out three and walked five, while going 2-3 at the plate with an RBI.  8th grader Ryan Sawyer had a hit.
The teams will square-off again on Wednesday, this time at Colonel Field in Hopkinsville.