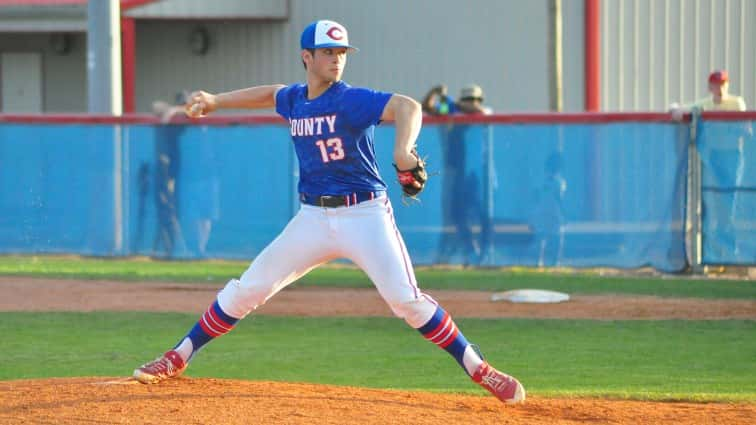 The temperature wasn't the only high number at Colonel Field Tuesday.  The Christian County Colonels mounted nine hits to score eight runs in an 8-4 win over Trigg County.
It was the Wildcats, though, who struck first with two runs in the second inning. Nick Ahart drove in Hayden Cunningham with an RBI single to score the first run. In the next at-bat, Trevor Cortner reached on an error.  The error advanced Ahart to third and scored Jude Hunter.
After dealing a 1-2-3 start to the third, the Colonels offense opened the floodgates with four runs. Eric Silvy drove in Patrick Croney for the first run and Austin Fields scored next following a Wildcat error.  Jase Polley then drove in Joshua Snorton with a single followed by Lane Diuguid scoring on a passed ball in the next at-bat.
The Wildcats remained cold in the fourth while the Colonels tacked on two more. Wyatt Stevenson drove in Fields on a sac-fly to center just before Polley drove in Diuguid on an RBI single.
As Trigg County's offense continued to struggle to start the bottom of the fifth, the Wildcats pulled starting pitcher Ashton Plymale, who allowed six earned runs off of eight hits while recording just two strikeouts.
His replacement, Hayden Cunningham, gave up two more runs in the bottom of the fifth. Fields smacked an RBI double to score Keith Stallons just before Silvy drove in Fields.
The Colonels made a pitching change of their own to start the final inning of the game. Diuguid replaced Stevenson on the mound after Stevenson allowed just five hits and one earned run while striking out 12 Trigg batters.
Diuguid gave the Wildcats hope to start the seventh, hitting Courtner and walking Stallons. Though he struck out back-to-back batters, he gave up a bloop single to Cunningham that scored Courtner and Stallons before recording a strikeout to end the game.
For the Wildcats, Hayden Cunningham led the way going 2-4 with a run and two RBI. For the Colonels, Fields went 2-4 with three runs and an RBI while Polley went 3-4 with two RBI.
Christian County (15-12) will next host South Warren Thursday, while the Wildcats (15-11) play host to Calloway County Friday.
PHOTO GALLERY – Christian County's 8-4 Win Over Trigg County