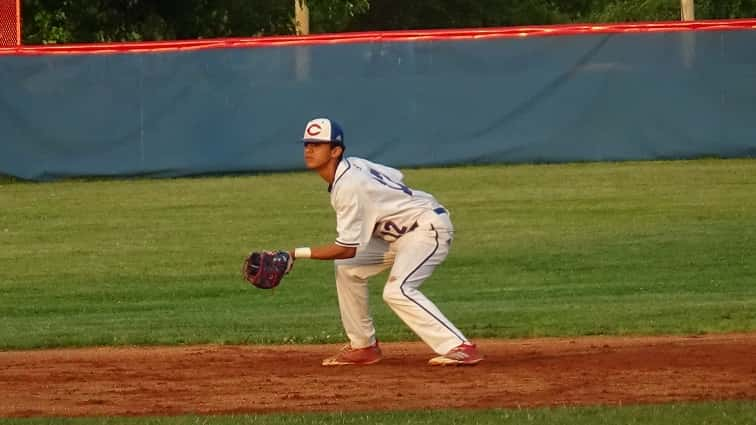 Wyatt Stevenson earned a complete-game victory and Jase Polley drove-in 3 runs to lead the Christian County Colonels to a 4-3 win over Henderson County in the 2nd Region semifinals on Wednesday night.  Christian County claims its fifth-straight win to improve to 19-12 and book its place in Thursday's regional championship game against Union County.  Henderson ends its season losing three of five to stand at 21-11 overall.
Both teams got on the board in the first inning, with Maclaine Morris doubling to drive in Henderson's first run.  Jase Polley answered for Christian County with a line-out to center field to bring in Austin Fields to tie the game.
After an Eric Silvy single and a dropped third strike that allowed Stevenson to get on base, Polley blasted his first-ever home run over the fence in left-center field.  After rounding the bases and celebrating at home plate with his teammates, he was called out for missing first base after an appeal by Henderson.  Polley still drove in 2 on the play, giving County a 3-1 lead.
There was more controversy in the top of the fourth, as Henderson trimmed the lead to 1 on a throwing error by County catcher Cameron Crider.  The Christian County bench argued that Crider had been interfered with by the Henderson batter, causing the throw to go into left field and allowing the runner to come home, but the run stood.
Silvy drew a walk in the bottom of the fifth, before advancing to third on two wild pitches by Henderson starting pitcher Bryce Willett.  Stevenson lined out to left field to bring in Silvy and double-up Henderson 4-2.
Henderson got its final run in the top of the sixth, but Stevenson struck-out three and coaxed three fly outs, including a nice running catch by right fielder Bryson Brown to end the sixth, to close out the game.
Stevenson yielded 3 runs, 2 earned, on six hits with a walk and seven strikeouts.  Polley led Christian County with 3 RBI, and Silvy and Keith Stallons each had a hit.
Willett took the loss for Henderson, working 5.0 innings while allowing 4 runs on three hits with four walks and seven strikeouts.  Nolan Melton hit safely twice, with Morris and Ian Pitt each driving in a run.
Christian County will be looking for its first region title since 2008 on Thursday, and trying to avoid being eliminated by Union County for the third time in as many years.  The Colonels will be making their first final-game appearance since a 2015 loss to Hopkinsville.