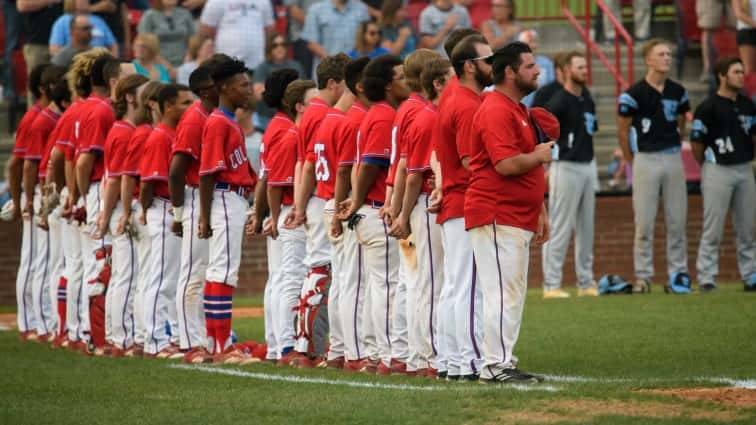 When Christian County won their last state baseball title in 2004, they got a strong pitching performance in the semifinals to knock off 15th Region champion Johnson Central 8-0. The Colonel pitcher was Trey Wheeler, who allowed four hits and struck out seven in picking up the complete game win.
Wheeler is now head coach at his alma mater and will lead the Colonels against another 15th Region champion Friday in the first round of the Whitaker Bank/KHSAA State Baseball Tournament in Lexington.
Christian County (20-12) will play Paintsville (25-12) at 1:30 (ET) Friday at Whitaker Bank Ballpark.
The Colonels are making their eighth appearance in the state tournament and first since 2008. Christian County is 5-6 in state tourney games.
The Colonels won the region tournament behind strong pitching performances from Austin Fields in the opener Wyatt Stevenson in the semifinals, and a no-hitter from Lane Diuguid in the championship game against Union County.
Christian County has a team ERA of 3.23 and their hurlers have accounted for 275 strikeouts in 219 innings.  Their pitching has helped them overcome a sluggish offense at times. The Colonels, who are hitting just .249 as a team, scored 41 runs in their first 11 games that saw them start 4-7. However, the Colonels enter the state tournament winners of 12 of 14 games that has seen them average over nine runs a game.
Wyatt Stevenson leads the Colonels in hitting at .373 with three homers and 31 RBIs. Jase Polley is batting .353 with 28 RBIs and raised his average 110 points over the final month of the season. Eric Silvy is batting .319 with 14 RBIs.
Paintsville is making their ninth state tournament appearance since 1942 and first since they won their only state title in 1990. They are 3-7 in 10 career state tourney games.
The Tigers knocked off 31-win Lawrence County in the 15th Region semifinals and unseated two-time defending region champion Johnson Central 5-2 in the title game.
Paintsville hit .298 during the season and had a team ERA of 2.94. They have three regulars batting over .400 on the season. Sophomore outfielder Seth Williams is batting .439 with six homers and a team-high 54 RBIs.
Senior Tanner Smith is hitting .424 with 17 RBIs. The Walters State signee also has a 2.00 ERA on the mound with 66 strikeouts in 35 innings.
The heart and soul of the Tiger team is second baseman Ben Daniels, who has signed with Mount St. Marys (MD). Daniels, who hit .415 during the season with 26 stolen bases, has sustained three ACL tears in his career, the most recent during his junior season on the football field.
The Christian County/Paintsville winner will play either Highlands or South Oldham Saturday night at 6pm.