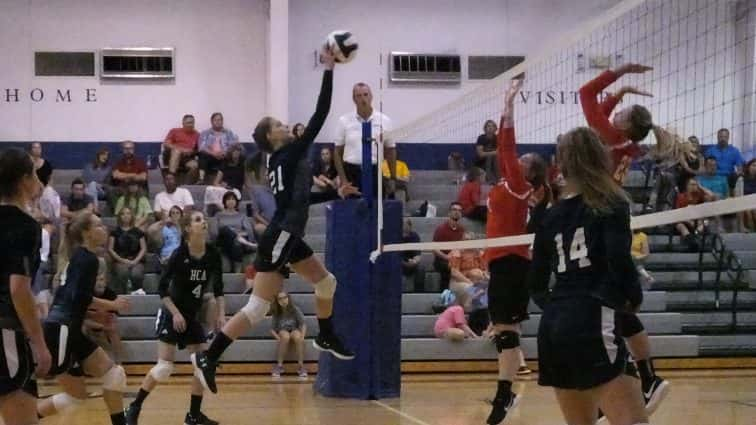 The Heritage Christian Lady Warriors rebounded from a tough loss Monday night by battling their way to a tough four set victory at home Tuesday evening over South Haven Christian. The visitors from Springfield, Tennessee made the Lady Warriors work, taking the third set of the match before HCA was finally able to put them away.
Early in the match, the Lady Warriors looked like they would roll through the evening. HCA came out strong, controlling the first set, and cruised to a 25-12 win.
In the second set, South Haven battled the Lady Warriors all the way through, before HCA finally pulled out the 25-21 win.
The third set completely belonged to South Haven, as they jumped out to an early lead and held off the Lady Warriors to win the set 25-21, closing the match to two sets to one.
However, any thoughts of a South Haven match rally were quickly dispatched by HCA, as the Lady Warriors jumped out to a 7-2 lead in the 4th set. Heritage then rolled through the set to close out the set with a 25-18 win.
The Lady Warriors had big nights from freshmen Lexie Crisp and Cami Nelson. Skyler Crisp and Allie Schluckebier also were solid throughout the night for Heritage Christian.
The win comes a day after the Lady Warriors were swept by Christian Community 25-23, 25-17, and 25-22. Coach Eldridge Rogers said his team played well, but ran into the best team they had faced so far this season.
Tuesday evening, HCA also won the middle school match, sweeping South Haven 21-13 and 21-11.