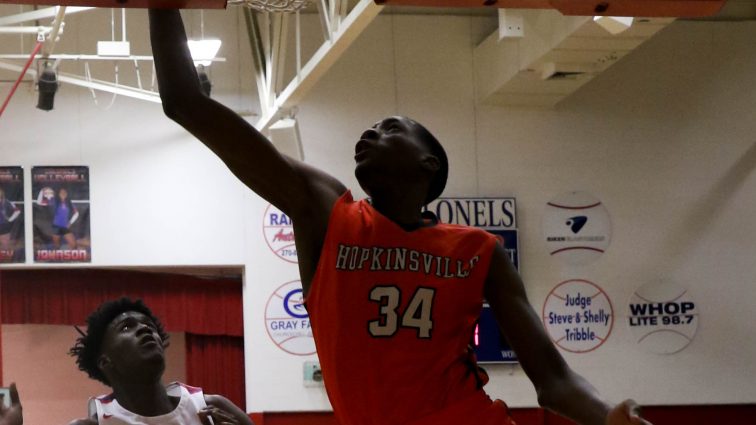 Friday night, the Hopkinsville Tigers proved they could win a big game at an uptempo pace. Saturday night, the Tigers proved they could go on the road and win a game where the points were not as easy to come by. Holding the host Bardstown Tigers under 40 points, Hopkinsville picked up the win 46-38 in the Bardstown Tip-Off Classic.
Things did not look promising at the start for the Tigers from the west. Bardstown's offense had its best quarter of the night. Connecting on three shots from behind the arc in the opening quarter, Bardstown took a 17-10 lead. That, however, would be the last time all game that the Hopkinsville defense allowed Bardstown to score double digits in a quarter.
With the Hopkinsville defense cranking up the pressure, Jacarius Burks and Arthur McKnight helped to get the offense going in the second quarter. The Tigers outscored Bardstown 13-6 in the quarter and the two teams headed off to the locker room tied at 23-23.
Burks then began to take over in the 3rd quarter for the Tigers. Hopkinsville's defense again held Bardstown to under 10 points, as the Tigers took a 33-30 lead heading into the 4th quarter.
Jacarius Burks continued his big night, and got some late game help from Jamed Nicholas. Once more, the Hopkinsville defense held the Bardstown offense to less than 10 points, giving up only 8 in the final period as Hopkinsville fought its way to the final 8 point margin.
Jacarius Burks stepped up big for Hopkinsville, finishing with 18 points in the game. James Nicholas added 13.
Bardstown was led by Jared Montgomery with 15.
Hopkinsville improves to 4-1 on the season and has now won four in a row. The Tigers get ready for a huge 8th District showdown Tuesday, when they host UHA.