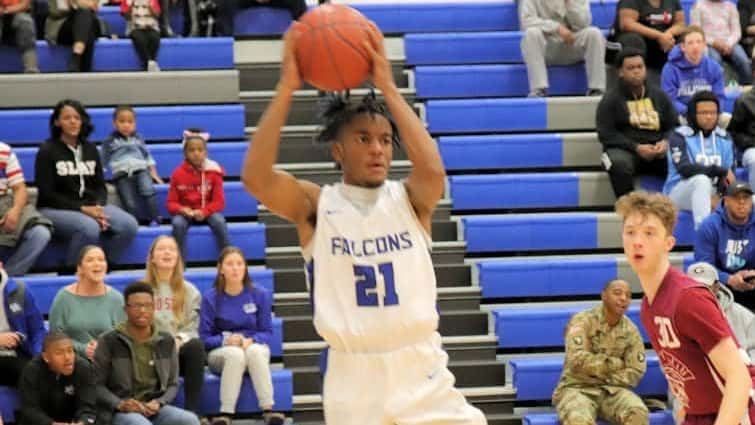 The Fort Campbell Falcon offense had its problems getting on track coming off the Christmas break Thursday evening. The Falcons could only muster five points in the second half in a 69-24 loss to Kenwood in the Zaxby's Holiday Tournament.
Kenwood opened the game hot from behind the arc, knocking down four 3-pointers in the opening quarter. With the long shots falling, Kenwood took a 23-9 lead after the opening quarter.
Things did not cool down much for Kenwood in the second quarter. Kevin McIntosh drilled four more 3-pointers in the second quarter, for a personal total of six in the first half. Kenwoods offense kept on rolling along, pushing the lead out to 46-19 at the half.
Kenwood delivered the final knockout blow in the 3rd quarter. They limited the Falcons to one field goal and one free throw, and blew the lead out to 67-22. With the clock running the 4th quarter played out quicky, as Kenwood rolled on to the 45 point win.
Jaylen Allen scored 7 points for Fort Campbell. DeAndre Jackson added 5 points.
Kevin McIntosh led Kenwood with 26 points, including connecting on eight 3-pointers.
The Falcons drop to 4-3 with the loss. They fall into the consolation bracket of the tournament and take on Lead Academy Friday afternoon at 2:00.