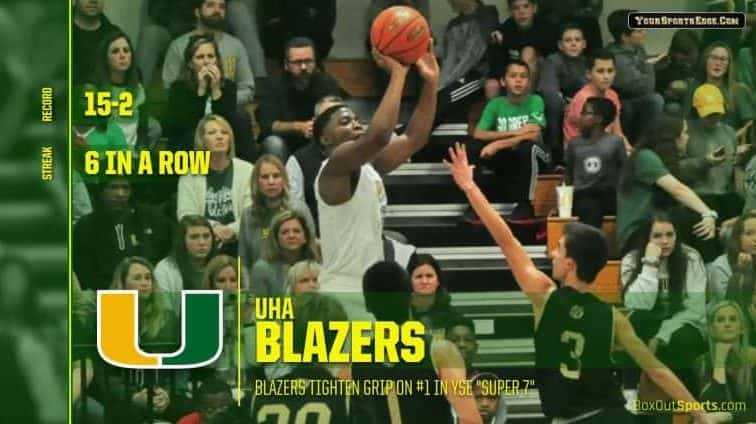 It was a fairly uneventful week as it pertains to the YSE Boys 2nd Region Super 7. Not that there was not good action on the court, just that it did not affect this week's rankings. The top seven all remain the same, and they remain in the same order. Don't expect that to hold true for the rest of the season though, as there are still some big matchups to come.
1. UHA (15-2) – The Blazers have now won six games in a row, and are coming off a big win over Christian County. Their grip on the top spot in the rankings does not appear to be loosening anytime soon. Big game with Mayfield this weekend.
2. Madisonville (11-5) – The Maroons have a four game winning streak of their own, capped off by wins over Hopkinsville and 7th District rival Caldwell County. For the moment, the Maroons are the clear #2 in the rankings.
3. Hopkinsville (9-8) – The Tigers had a tough end to the holiday season and beginning of 2019. However, a home win over Warren Central was a nice way to rebound and end a six game losing streak. This is still a team that could cause havoc in the postseason.
4. Christian County (8-9) – I know the southern Colonels have a losing record, but the schedule has been brutal. They had been battling some people close until they ran into the UHA buzzsaw the last time out. Still be wary of a Stovall team as the season gets later.
5. Caldwell County (10-5) – The Tigers had been on a bit of a roll through the holidays. Then came a tough loss to the Maroons. How the Tigers respond to that loss may go a long way towards determining how the direction of the remainder of their season goes.
6. Henderson County (10-6) – The northern Colonels knocked off Webster County for a nice win. Now, we will find out more about this team as they take on Union County and Madisonville before the week is over, weather permitting of course.
7. Lyon County (10-6) – The Lyons are set up to get a big, big test in just a few days. If everything shakes out as expected, Lyon County and UHA will meet in the semifinals of the Boys 2nd Region All A Classic. That should give us a very good idea of the progress being made by this young team.