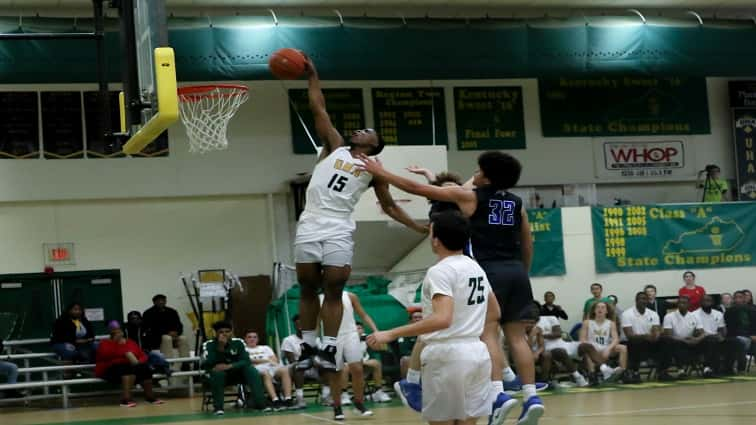 The UHA Blazers jumped out to an early, double-digit lead and placed all five starters in double figures, cruising to a 91-47 victory over visiting Fort Campbell on Tuesday night.  The Blazers win their seventh-straight to improve to 3-0 in the 8th District, 22-3 overall.  The Falcons remain winless in the district, slipping to 5-15 on the year.
Coming off a statement performance at the All-A state tournament, UHA's TaQuan Hollowell scored all 11 of his points in the first quarter.  Kyky Tandy scored the last of his 10 first-quarter points on a putback at the buzzer, helping the Blazers to a 26-14 lead over the Falcons.
Drew McGowan, Will Bryan and DJ Quarles each put up 8 in the second quarter, and the Blazers outscored the Falcons 34-11 to blow the game open.
Bryan scored 7 of the Blazers' 16 in the third, with Jaylen Allen putting up 4 for the Falcons.  The margin was 40 heading into the final 8 minutes, and 43 at the final buzzer.
Tandy's 22 led all scorers, followed by 15 for Bryan.  Quarles and McGowan each finished with 14, and Hollowell had 11.
Allen and Nathan Lake each had 6 for the Falcons, with Aaron Hall, Cameron Pratt, Cameron Johnson, and Brock Elsberry scoring 5 each.