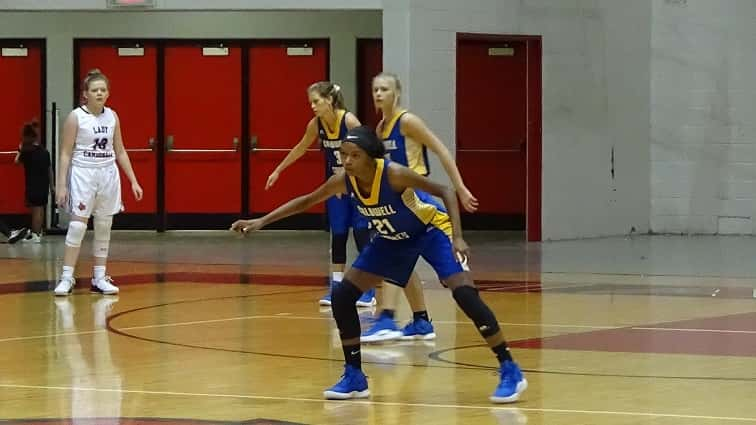 Only hours after the Caldwell County girls' basketball team narrowly lost a big 7th-District showdown with Madisonville-North Hopkinson Friday night in Princeton, they hit the road to face Mayfield on Saturday evening.  The quick turnaround seemed to effect the Lady Tigers, as they fell behind by as many as 26 points before losing 63-50 to the Lady Cardinals.
Caldwell drops its second-straight to slip to 10-13 overall, while Mayfield has won three of four to move to 15-8.
The Lady Tigers jumped out to a 5-1 lead with less than 2 minutes played, but only managed a single bucket the rest of the quarter and trailed 17-7.
Caldwell's Bella McConnell got going with 5 points in the second quarter, but the Lady Cardinals stretched the advantage to 16 before the Lady Tigers' Lucy Goffinet beat the buzzer with a putback for a 34-20 halftime score.
Mayfield outscored Caldwell 18-6 in the third behind 10 points from Madison Felts and 6 for Lyndsey Looper.  The Lady Cardinals took their largest lead of the game at the end of the third quarter at 52-26.
Jacey Jaggers scored 2 of her 9 fourth-quarter points to pull the Lady Tigers to within 11 with 2 minutes to play, but Mayfield's Kyler Henson hit 7 of 10 free throws down the stretch to seal the 13-point victory.
Felts led all scorers with 20, followed for the Lady Cardinals by Looper with 12 and Henson with 10.
McConnell finished with 15 for Caldwell, joined in double figures by Jaggers with 12.  Morgan McDaniels scored 6 over the final 8 minutes to finish with 8.