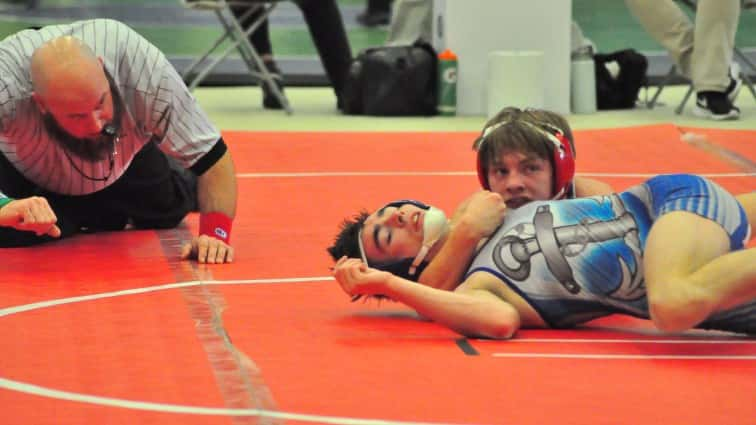 Christian County has three wrestlers in state title contention and five more who can reach the podium with strong finishes after the first day of the KHSAA State Wrestling Tournament in Lexington Friday.
Jakerion Merritt advanced to the semifinals in the 132-pound class with pins of Belfry's Elijah Fields (0:35) and Fern Creek's Atorian Cook (4:39) in the first two rounds. He made quick work of Trinity's Jonathan Phillips in the semifinals with a pin 1:36 into the match. Merritt, ranked No. 2 in the state in the 132-pound class, will face No. 1 Chase Yost of Woodford County in Saturday's semifinal.
Gage Fowler advanced to the semifinals of the 113-pound class with a pin of Ryle's Colin Ross (1:39) in the first round and a pin of Central Hardin's Mason Polston (4:37) in the second round. He closed out a 5-1 decision over Danville's Morgan Sallee in the quarters. He will face undefeated and No. 1 Brendan Pye in the semifinals.
Niko Bussell was impressive in his trip through to the semifinals. He beat Jeremiah Shulze of Woodford County in the opener 19-4 and then knocked off Wyatt Jones of Male by fall (0:58) in the second round. He took down John Hardin's Horn by fall (2:08) to advance to Saturday's semifinals. Bussell, who is ranked No. 2 in the weight class, will face No. 13 Jonathan Gregory of Wayne County in the semifinals.
The three Colonel wrestlers will attempt Saturday to become the first Christian County wrestlers to win a state title since A.J. Green and Kris Perry in 2004.
The Colonels also have five other wrestlers that can reach the podium with good days Saturday.
At 145, Neal Aldridge won his first two matches to advance to the quarterfinals. He defeated Woodford County's Ronan Wyatt 2-0 and Simon Kenton's Brennan Conrad 4-3. In the quarters, he dropped an 8-1 decision to Nathan Wheeler of St. Xavier, the state's No. 1 wrestler in the class.
Antonio Abren advanced to the quarterfinals of 182-pound class with wins over Belfry's Randall West (14-3) and Atherton's Andrew Marchal (12-8). Abren, ranked No. 5 in the 182-pound class, lost to No. 2 Daulton Mayer of Walton-Verona 6-0 in the quarters.
Markus Green advanced to the quarterfinals of the 285-pound class with wins over Casey County's Hunter Arthur (10-7) and Taylor County's Tate Morris (6-2). He was dropped to the consolation round with a loss to Moore's Cody Melton by fall (2:28).
Ethan Wells won his opening match in the 120-pound class with a pin of East Jessamine's Tony Gerling (1:09) but was knocked off in a 5-2 decision in the second round by Simon Kenton's Trevor Frietsch. In the consolation bracket, Well beat Paducah Tilghman's Ray Hamilton 16-1.
At 160, Cameron Coleman opened his day with a 16-1 technical fall over Wayne County's Jarred Phillips. However, he went up against Zane Brown of Male in the second round and lost by pin (1:06). He was able to beat Simon Kenton's Rictor Morgan 9-6 to advance in the consolation round.
The Colonels had five wrestlers who saw their day end on Friday.
At 170, Kenyon Drayton lost his opening match to Oldham County's Jackson Deckard 3-1. Drayton won his first consolation match against Ryle's Trey Fleek 5-4 but was defeated by fall (3:38) by Ohio County's Klemmer Nicodemus.
At 195, Michael Elkins lost his opening match to Male's Nathan Tate 6-5. Elkins beat Madison Southern's Rocky Whitehead in the consolation opener by fall (2:57) but was eliminated by Scott County's Jacob Thompson 9-3.
Eighth grader Nathan Hale dropped his opening match to Lafayette's Luke Chapman by fall (2:40) and was eliminated in the second round with a 20-5 loss to Cooper's Hunter Sproles.
At 126, Mason Kellett was eliminated with losses to St. Xavier's Ryan Bellucci (5-0) and North Oldham's Gabe Bobay (4-2).
At 152, eighth grader J.T. Adams was eliminated with losses with Newport senior Kyle Mardis (7-5) and Anderson County's Cole Nance by fall (3:50).
Christian County sits in fifth place in the team standings after the first day with 70.5 points. Defending state champion Union County is in first place with 110 points followed by Johnson Central (88.5), St. Xavier (82.5), and Madison Central (73.5).
The KHSAA State Wrestling Tournament continues Saturday at Alltech Arena in Lexington.