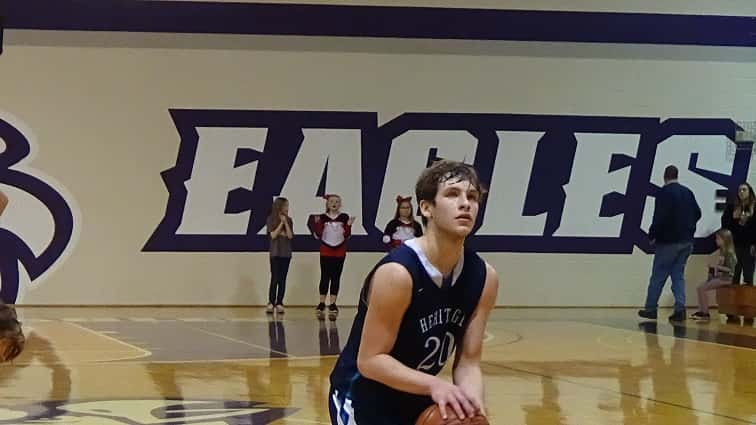 The Heritage Christian Academy Warriors jumped out to a first-quarter lead and used clutch free throw shooting down the stretch to down Oak Ridge Christian Academy 67-55 on Saturday afternoon on the campus of Asbury University.  The Warriors will now face Somerset Christian School in the title game Saturday evening.  The Cougars beat the Warriors 77-43 in Hopkinsville back in early January.
Dalton Folz scored 5 straight to give the Warriors an early 7-2 advantage, before Gavin Fowler closed the quarter with a 3-pointer and an assist to Josh Jones for a 12-4 lead.
A Rajah Mills floater stretched the lead to double digits early in the second quarter, and he and Fowler combined for all 18 of the Warriors second-quarter points for a commanding 30-15 advantage at the break.
Fowler scored 4 points to start the second half and give the Warriors a 15-point cushion, but the lead was down to 10 with 3:00 left in the third.  Dalton Folz assisted on a basket by Josh Jones and then scored off an assist from Fowler to push it back to 14 with 2:00 left, but Oak Ridge's Heath Caldwell scored on a putback at the buzzer to trim it to 9 heading to the fourth.
The margin hovered around 10 for the first half of the fourth, before Jacob Chrisman scored 4 straight, including drawing Fowler's 5th foul, to make it 52-44 with 2:33 to play.  Coming out of a timeout, Mills went 6-6 from the line to restore the 14-point edge, as Oak Ridge tried to foul to get back in the game.  As a team, the Warriors went 16-21 from the line in the fourth quarter on the way to a 12-point win.
Mills led the way for the Warriors with 22, followed by Fowler with 21.  Folz also finished in double figures with 15.
Chrisman scored 21 to lead Oak Ridge, with Cardwell bouncing back from a 2-point first half to finish with 17.