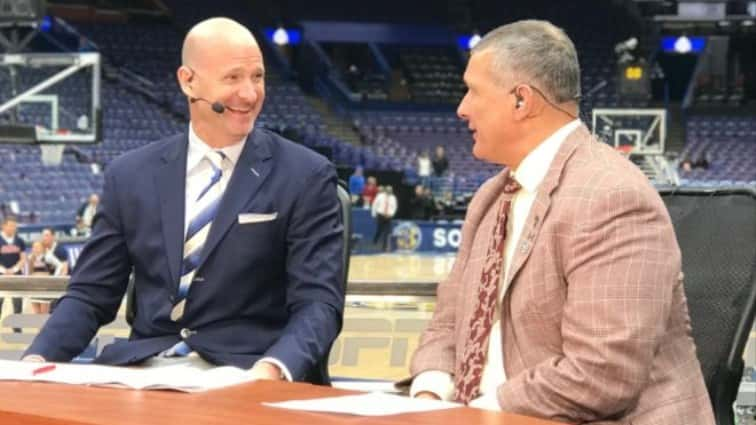 Getting Reid Travis back on the court for Friday's Southeastern Conference Tournament opener would give him a chance to adjust to game action again after the senior missed the previous five Kentucky games with a sprained knee.
However, former Mississippi coach Andy Kennedy, now a SEC Network analyst, says there is one sometimes overlooked benefit to get UK's most physical inside defender back before NCAA play starts.
"With Reid being a fifth year senior and already been in over 100 games, I am sure the kid has been working hard," said Kennedy. "If I am sitting on the Kentucky bench (as a coach) and want to win the SEC, I want him back even if this tournament has kind of been the Kentucky Invitational. But I would want him back out there to get his rhythm back before NCAA play.
"I don't know if it will be a game, half game or two games that he can play, but there will be a transition for not only him to get back into rhythm but for the team to do so. They have had to learn to play without him the last five games. Now they have to learn to play with him again and we all know he is a big part of what they do when they are at their best."
Kentucky will play the winner of Thursday night's Alabama-Ole Miss game in Friday's quarterfinals.
Kentucky coach John Calipari has still said not officially if Travis will or will not play but his players indicated Tuesday they thought he would. So does Kennedy, who won 245 games in his 12 season at Mississippi, was 2007 SEC Coach of the Year and led his team to the 2013 SEC Tournament title.
"My expectation is he will play. There is no competitive advantage for Cal to let anybody know. I honestly thought he (Travis) would be back before now," Kennedy said.
Other than Travis, Kennedy says the major concern for Kentucky is perimeter shooting.
"If they have a cold shooting night against a good team, which they will face from game one here, you can get beat," Kennedy said. "When they have Reid, they have a guy who you usually can pencil in for 12 (points) and eight (rebounds). Take him out and there is more pressure on the ability to make perimeter shots, so that's another reason UK needs him back."
Kennedy has been impressed with how Calipari has molded this team from its opening game debacle against Duke into a team that is poised to contend for a national title.
"I think John is one of the best college coaches out there, so I am never surprised by how his teams develop," Kennedy said. "This group, more than many of his past teams, has got so much better defensively without a great rim protector. Nick (Richards) is good but in a limited role. E.J. (Montgomery) is capable but also limited. There is no Willie Cauley-Stein or Anthony Davis out there. Then think about how almost all the primary minutes on the perimeter are being played by babies (freshmen). How much better they are defensively now than when the season started is why they are elite and can win the national championship."
Kennedy says there's no doubt that Kentucky and Tennessee are "1 and 1A" in the tourney field with regular-season champion LSU more an unknown because of the turmoil with head coach Will Wade and guard Javonte Smart. Both were suspended last week. Smart made the trip with the team to Nashville Wednesday but his status for Friday afternoon's game remains in limbo.
"Two teams that would not surprise me to see make big runs because of their talent and how they are playing good basketball right now would be Mississippi State and Auburn," Kennedy said. "It would not surprise me if they won a game or two and created some momentum to help them with the NCAA (seedings). But this is familiar territory for Kentucky. This is nothing new being a SEC tourney favorite. They are always in the conversation. Tennessee is getting there. There's a lot at stake for teams (UK and Tennessee) trying to earn one seeds (in the NCAA) and other teams that have to win games here just to get into the NCAA. That makes for some fun scenarios."