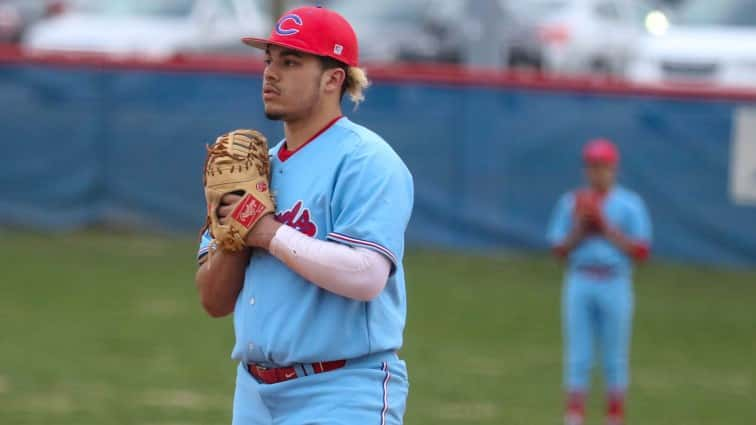 Jase Polley homered twice and drove in five runs to help Christian County beat Ryle 7-2 in their second game of the Louisville Invitational Tournament Saturday. The Colonels dropped the nightcap to Fern Creek 14-9 to fall to 2-1 on the trip.
Polley's first homer was a three-run shot as part of a four-run first against Ryle pitcher Logan Batte. He added a two-run homer to left field in the fifth inning to give the Colonels a 7-1 lead.
Eight Colonels finished with hits in the game, with Austin Fields joining Polley with two hits. Eric Silvy doubled and scored a run.
Wyatt Stevenson was strong on the mound, needing only 70 pitches in seven innings to get the complete game win. He allowed six hits and one earned run while striking out six.
Batte had the lone extra base hit for Ryle (10-13), a triple in the third inning.
In the second game, Fern Creek ripped six doubles in their 14-9 win over the Colonels.
Christian County took a 9-2 lead after three at bats. Polley doubled in two runs in the first inning. Three consecutive bases loaded walks preceded a two-run single by Fields to put the Colonels ahead 8-0.
Fern Creek chipped away with two runs in the second and five more in the third. They used three hits, two walks, two Colonel errors, and two hit batters to plate six runs in the decisive fifth inning. Christian County committed five errors that led to 11 unearned runs for the Tigers.
Lane Diuguid had two hits and scored three runs for the Colonels. Fields and Eric Silvy also had two hits, and Polley drove in three runs to finish with eight on the day.
Louisville signee Wyatt Stevenson had a hit and RBI for Christian County. His future UofL teammate, Kaleb Corbett of Fern Creek, also had a hit and RBI in the game. Fern Creek (15-6) finished with 11 hits in the game.
Christian County (12-6) travels to Henderson County Tuesday.