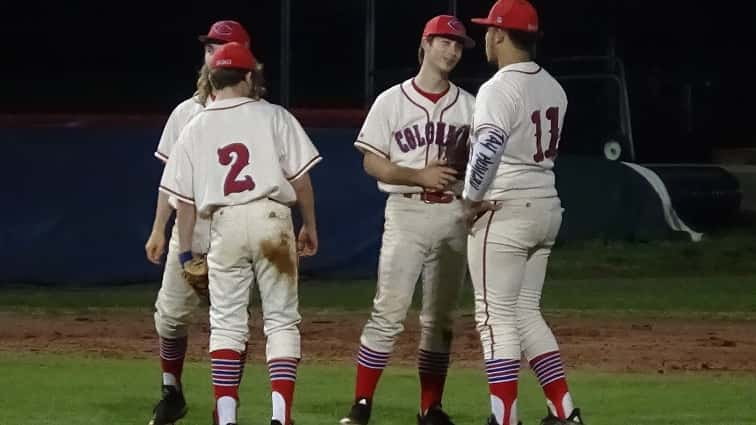 After an hour delay to get the field in shape after a rain shower, the visiting McCracken County Mustangs jumped on the Christian County Colonels early and never looked back, winning 15-2 in five innings Thursday night.  The Colonels drop their third game in four outings, and second of the season to McCracken, to slip to 13-8 overall, while the red-hot Mustangs win their eighth-straight to move to 17-6 on the year.
Down 6-0 in the bottom of the fourth, the Colonels broke through with RBI singles by Wyatt Stevenson and Jase Polley to pull within four runs.  However, the Mustangs responded with a 9-run fifth, capped by a 2-run home run by Grant Godwin, to put the game out of reach.
Colonels' starting pitcher Elijah Underhill took the loss, working 3.2 innings while yielding 6 earned runs on 6 hits, with 3 walks and 4 strikeouts.  Three other Colonels took their turn on the mound, with Bryson Brown giving up 3 earned runs on 3 hits over two-thirds of an inning, followed by David Krzywada and Chance Alexander.
Jacob Ehling went the distance for the Mustangs, allowing 2 earned runs on 4 hits, with 2 walks and 5 strikeouts.  Brandon Dodd had 2 hits and 3 RBI and Elijah Wheat went 3-4 with 2 driven-in.
If the weather cooperates on Saturday, the Colonels will be on the road to face the 19-9 Bowling Green Purples.