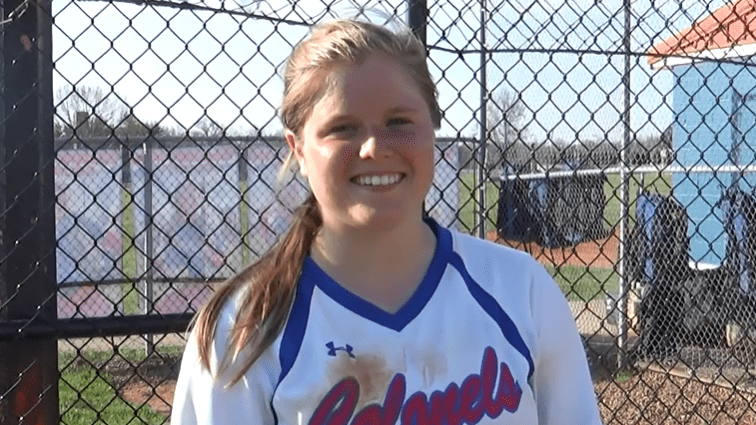 When her team needed a big night, Tyler Shemwell once again came through in a big way. The Christian County Lady Colonels got out to a big early lead and then had to hold on Wednesday night to pick up a big road win. A four run top of the 7th sealed a 15-8 win over the Daviess County Lady Panthers.
Early on, it looked like the trip up to Owensboro would be a short one for the Lady Colonels. Christian County jumped out to a 10-1 lead after three innings, giving all indication that the game might come to an end after five innings.
Christian County put the Lady Panthers in a hole before fans had even had a chance to settle into their seats. After walks to Pickle Winker and Emmy Blane to open the game, Tyler Shemwell blasted one to left field to put the Lady Colonels up 3-0. The lead grew to 5-0 in the top of the 2nd, on a sacrifice fly from Emmy Blane and an RBI single from Shemwell.
After Daviess County trimmed the lead to 5-1 in the bottom of the second, it looked like the Lady Colonels had the game put away in the top of the third, when they scored five runs to blow the lead out to 10-1. The big hit in the inning came off the bat of Macy Lancaster, who hit a three run homer.
Christian County got the lead to 10 runs in the top of the 5th inning on an RBI double from Tyler Shemwell. Daviess County did just enough to keep the game going in the bottom of the 5th inning, when a leadoff home run cut the lead to 11-2. Things then got interesting in the bottom of the 6th inning.
The Lady Panthers were able to use six hits and a pair of walks to score six runs in the inning and get the lead down to 11-8 headed into the 7th.
The Lady Colonels were then able to assert themselves again in the top of the 7th, scoring four runs to seal the win. Taylor Shemwell connected for an RBI double, while Reni Shemwell crushed a three run homer to left to get to the final 15-8 score.
Big night is not enough to describe the game that Tyler Shemwell had. She was 5-5, with a home run, two doubles, and 7 RBIs. Reni Shemwell ended up 1-5, with a home run, and 3 RBIs. Macy Lancaster ended up 1-3, with a home run, and 3 RBIs. It was a big night also for leadoff hitter Pickle Winkler, who was 4-4, with a walk, and 5 runs scored.
Hannah Sumner picked up the win, going all seven innings in the circle for the Lady Colonels.