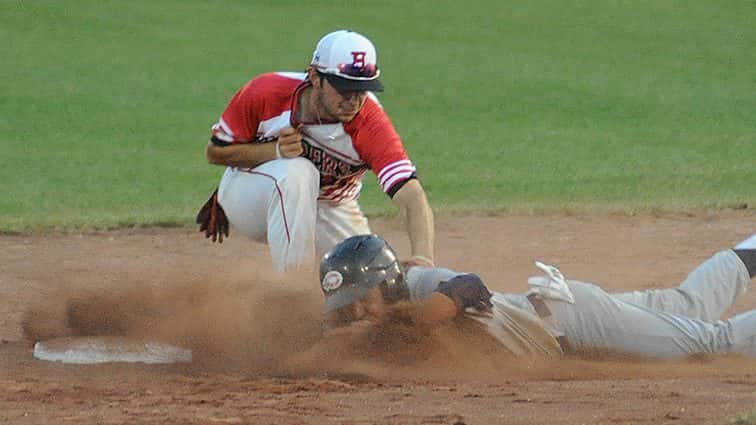 The Hoptown Hoppers ended a three-game losing skid — and dealt the Paducah Chiefs their first loss of the season — by rallying from a 3-0 deficit to post a 6-4 win Wednesday night at Hopkinsville High School.
Brant Husser scored the go-ahead run in the bottom of the eighth inning when Cameron Hill grounded out to the pitcher, giving the Hoppers their first win since beating the Madisonville Miners 6-2 in the season opener on Friday.
Paducah (4-1) scored once in the first inning and twice in the fourth to go up 3-0 in the Ohio Valley League contest.
The Hoppers (3-2) tied things in the home half of the fifth. Brennan Crooms singled home two runs to knot things at 3-3.
Each team scored once in the seventh. Seth Bennett's RBI single in the bottom of the frame tied the game again at 4-4.
Wyatt Stevenson pitched well out of the bullpen for the Hoppers in relief of former Christian County Colonel teammate Lane Diuguid. Stevenson picked up his first win by working the final 2.1 innings and shutting out the Chiefs on just one base hit. Stevenson struck out two and walked one. Diuguid went the first 6.2 innings, allowing two earned runs on four hits while striking out seven and walking four.
Offensively, Crooms finished 2-for-4 for the Hoppers with two runs batted in. Bennett was 2-for-4 with a double and an RBI.
Chiefs starter Nick King worked four strong innings before running into trouble in the fifth. Palmer Campbell, the third Paducah pitcher of the night, suffered the loss. Campbell gave up one earned run on three hits while fanning three and walking none.
The Hoppers will play at home again on Thursday when they host the Henderson Flash.