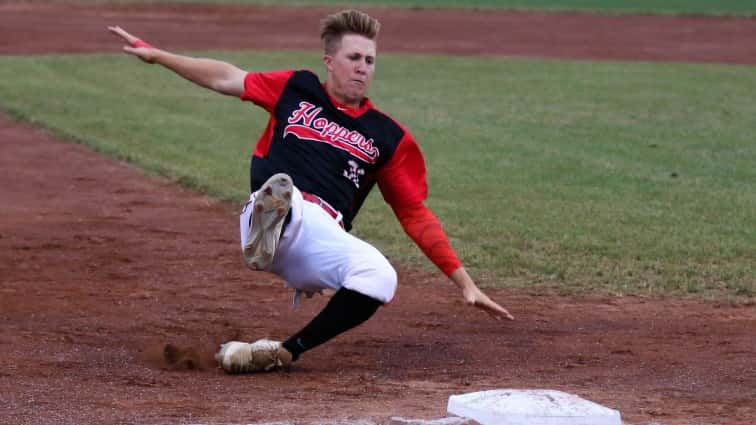 Hoptown Hoppers Coach Grayson Crawford has been searching for hits with runners in scoring position during the first two weeks of the baseball season.  On Thursday, the Hoppers got ten of them as they hammered Henderson 19-5 in Ohio Valley League action at Hopkinsville High.
The 19 runs by the Hoppers were the most since their 20-4 win over Fulton in the 2018 season opener.
Hoptown got out of the gate quickly, scoring seven times in the first inning with two outs and chasing Henderson starter Jon Cato before he could finish the frame.  Jacob Jenkins and Brennan Crooms both singled ahead of a Wyatt Stevenson walk.  Seth Bennett followed with an RBI single, and consecutive bases loaded walks to Charlie Fischer and Brant Husser put the Hoppers up 3-0.
Chandler Kendall singled home a pair of Hoppers as part of his two-hit, 5-RBI night.  Drew McGowan's second at bat of the inning produced a two-run single and a 7-0 Hoptown lead.
After Henderson got a run from a passed ball in the second inning, the Hoppers answered with a Fischer sacrifice fly that Flash left fielder Hayden Judice made a nice play on to keep another run from scoring.
Josh Johnston brought the Flash to within 8-3 with a two-run homer over the right field fence in the third inning. 
Hoptown hung another crooked number on the board in the fourth inning when Kendall's three-run homer to right highlighted a six-run inning for a 14-3 Hopper lead.
Five Hoppers had multiple hits in the game.  In addition to Kendall, Bennett had three hits and four RBIs.  McGowan had two hits and two RBIs from the leadoff spot, and Crooms continued his torrid pace with two more hits.  Crooms is batting 600 in four games for the Hoppers this season with five RBIs.
Wyatt Stevenson chipped in with a pair of hits, and Fischer had four RBIs.
Cam Barlow allowed two earned runs and two hits in picking up the win.  He struck out seven and walked two.  Barlow, Will Nash, and Crooms combined to strike out 11 Henderson batters.
Johnston had two of Henderson's four hits.  Caldwell County alum Bryce Thomas pitched the final two innings in relief for the Flash, who dropped to 3-2.
Hoptown (3-3) will host Owensboro Friday night at Tiger Stadium.