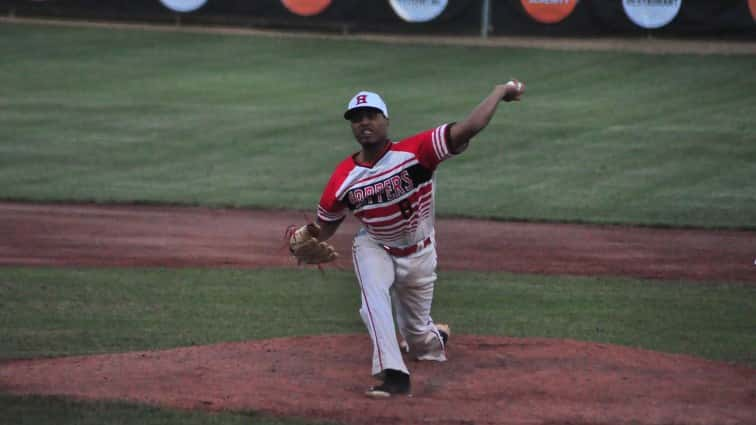 The Hoptown Hopper offense has been getting most of the headlines during their current five-game winning streak and rightfully so. The Hoppers are scoring 10 runs a game on nine hits during their run.
But their pitching has been just as good. Hopper starters have allowed two earned runs or less in four of the five wins and have struck out 29 batters.
The latest standout effort on the mound came Wednesday from Lane Diuguid, who struck out 11 in picking up a complete game 10-0 win over Muhlenberg County at Hoptown High.
The Christian County High product allowed just three hits and walked four in improving to 2-0 on the season and lowering his ERA to 0.94. He has struck out 24 batters in 18 innings.
The Hoppers wasted no time in giving Diuguid some offensive support. Santrel Farmer walked, advanced to second on a Jacob Jenkins and was balked to third base. Hunter Evans scored Farmer on a sacrifice fly for a 1-0 Hopper lead.
Wyatt Stevenson continued his torrid start to the season with an RBI double to deep center that scored Farmer for a 2-0 Hopper lead. Hoptown tacked on three more runs when Charlie Fischer doubled home two runs and scored on an error off the bat of Ben Huber.
Up 6-0 in the sixth, the Hoppers put the game into mercy rule alert with four more runs. Jenkins began the scoring with an RBI single. Evans doubled home a run, and Jenkins scored on a wild pitch for a 9-0 lead. Greg Mehlhaff singled to left for a 10-0 lead.
While the Hopper offense was rolling, Diuguid was striking out two batters in the first, second, fourth, fifth, and sixth innings.
Farmer had two hits and scored two runs from the leadoff spot for the Hoppers. Jenkins had two hits and two RBIs as seven different Hoppers had hits.
Hoptown had won 12 of the first 13 career meetings with the Stallions since Muhlenberg County came into the league in 2016. However, Muhlenberg won four of the six meetings between the clubs last year.
Hoptown's win, coupled with Paducah's 9-3 loss to Henderson, moved them into a first place tie with the Chiefs in the OVL West Division. Both teams are 6-3.
Hopkinsville hosts Madisonville Thursday, while Paducah visits Fulton.