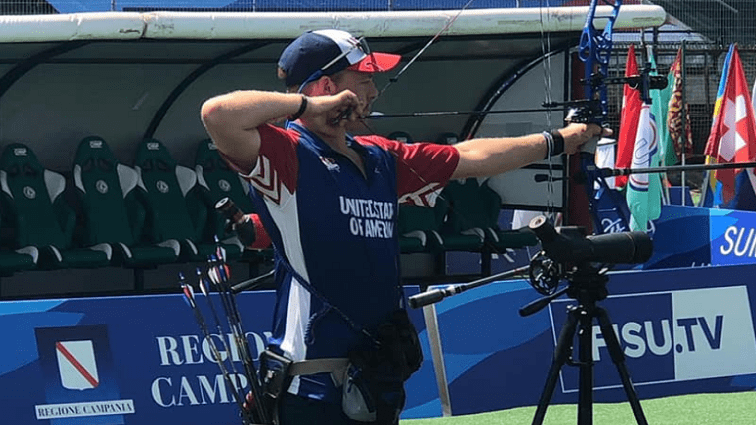 It has been a pretty good week for a Christian County native representing the United States in archery at the 2019 Summer Universiade in Napoli, Italy. Gracey native Josh Isenhoff has reached the bronze medal match in mens team compound, and finished in 9th place in both the individual compound and mixed team compound. The bronze medal match will take place at 3:30am Saturday morning central time.
In the compound mens competition, Isenhoff and his partner Calvin Gross finished the preliminary rounds on Tuesday as the 6th seed in the tournament. The two archers made it all the way to the bracket semifinals before they were upended by a duo from Turkey. It was a tough loss as the U.S. pair fell by just four points, dropping them into a bronze medal match against a pairing from Mexico.
In the compound mixed team event, Isenhoff, along with teammate Dahlia Klimitchek, who finished preliminaries as the #12 seed, finished in 9th place. The duo picked up a win over a pair from Japan, before falling to an entry from Chinese Taipei.
In the singles event, Isenhoff recorded a qualifying score of 699 to place 11th in the men's compound event Tuesday.
Isenhoff's score placed him in a tie with Rajat Chauhan with 699 apiece. With the 11th-seed, Isenhoff received a first-round bye in the head-to-head competition.
After the bye, Isenhoff faced 22nd-seed Chen Hsiang-Hsuan of Chinese Taipei.  Isenhoff pulled out the win 146-145 to advance to the 3rd round. His opponent was 6th seed Miguel Becerra Rivas, of Mexico. Isenhoff fell to Becerra Rivas 146-136 in the third round to be eliminated from singles competition, and finish in 9th place.