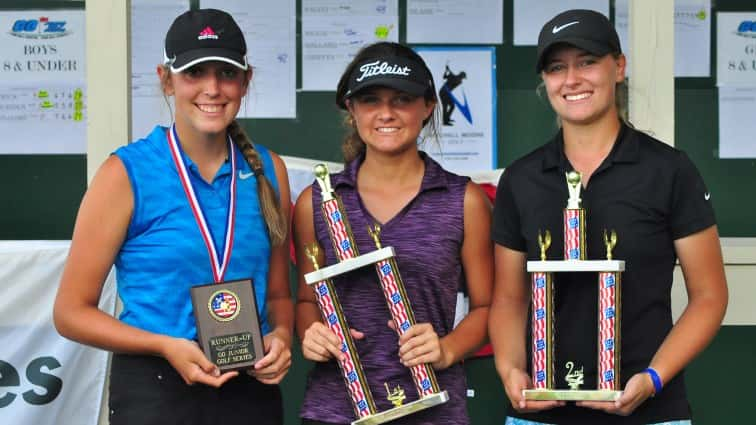 (From Left) Hannah Sumner (third place), Bridget Owens (champion), and Emma Payne (second place) show off their GO Series hardware Thursday at Western Hills Golf Course.
The GO Junior Golf Series wrapped up their Girls' Southern Series Thursday with the championship at Western Hills Golf Course in Hopkinsville.
This was the 14th year for the GO Series, sponsored by Worth Insurance Group and Chick-Fil-A. Mark Price, the former golf coach at Daviess County, is the founder and director of the series, that has a southern series in the Hopkinsville/Madisonville/Russellville area and a northern series in Owensboro/Henderson/southern Indiana area.
GIRLS 16-18
Owensboro's Emma Payne shot an 81 to win Thursday's round. She finished eight shots ahead of Christian County's Hannah Sumner and 12 shots ahead of Bridget Owens, also of Christian County.
Owens took first place in the season series, with Payne taking second in the points race and Sumner finishing third.
GIRLS 13-15
Madisonville's Karra Tucker shot an 87 to win the round and claim the tour championship. Hopkinsville's Cate Blane shot an 89 to take second, while her teammate Audrey Rains finished in fifth place with a 119.
Blane finished as runner-up in the division, while Rains took third place in the first flight.
GIRLS 13-15 (9-HOLES)
Hopkinsville's Anna Fort claimed both a win on the course with a round of 45 and took first place for the season.
Abby-Grace Forbes of Russellville shot a 53 to finish second Thursday and claim runner-up for the season. Hopkinsville's Anna Blane shot a 55 to finish third.
GIRLS 9-10 (6-HOLES)
Allie Sandifer shot a 35 to win the round and take first place in the age division for the summer.
GIRLS 8-UNDER (3-HOLES)
Emme Hightower shot a 24 to win the round and take first place in the division.