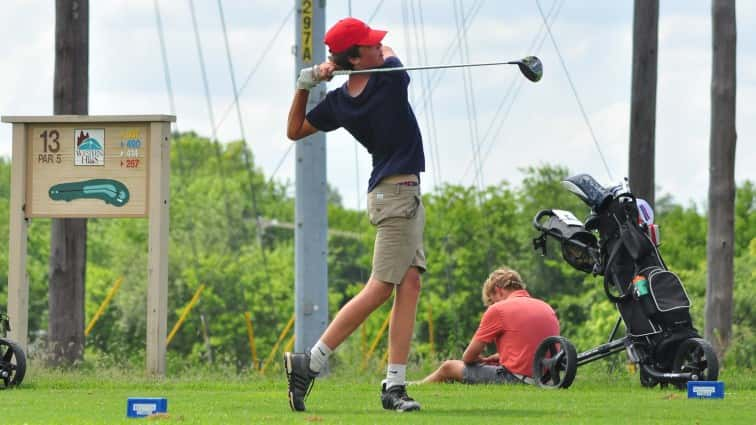 The GO Junior Golf Series wrapped up their Boys' Southern Series Thursday with the championship at Western Hills Golf Course in Hopkinsville.
This was the 14th year for the GO Series, sponsored by Worth Insurance Group and Chick-Fil-A. Mark Price, the former golf coach at Daviess County, is the founder and director of the series, that has a southern series in the Hopkinsville/Madisonville/Russellville area and a northern series in Owensboro/Henderson/southern Indiana area.
BOYS 16-18
Bowling Green's Max Bewley shot a 2-over 74 to win Thursday's round at Western Hills.
He was four shots better than Hopkinsville's James Folz and five shots ahead of third place Aaron Munger of Madisonville.
University Heights Academy's Jiles Wyatt shot an 81 to finish in fifth place, while Hopkins County Central's Trae Barber shot an 82 to come in sixth place Thursday.
Barber won the summer series, with Munger finishing as runner-up, and Russellville's Elijah Forbes taking third place.
BOYS 13-15
Trigg County sophomore Hunter Reynolds capped of a championship win on the GO Series with a 5-over 77 Thursday. He defeated Hopkinsville's Evan Pyle by eight shots to win the round. Pyle finished as tour runner-up.
Christian County's Micah Smith shot a 90 to finish the round in fourth place.  Hopkinsville's Will Binkley shot a 92 to finish in sixth place.
BOYS 13-15 (9-HOLES)
Hopkinsville's Andrew Riggs shot a 44 over nine holes to take first place in the division. Joey Falco shot a 48 to finish tied for third place.
Falco finished the season in third place in the championship flight. Riggs was the First Flight winner.
BOYS 11-12 (9-HOLES)
Trigg County's Haydon Reynolds shot a 42 over nine holes to win Thursday's round by one shot over Grayson County's Jackson Mayes. Mayes finished as the tour champion, while Reynolds was the Second Flight winner.
BOYS 9-10 (6-HOLES)
Hopkinsville's Matthew Flynn shot a 33 to finish third Thursday, while Max Falco shot a round of 40 to come in sixth place.