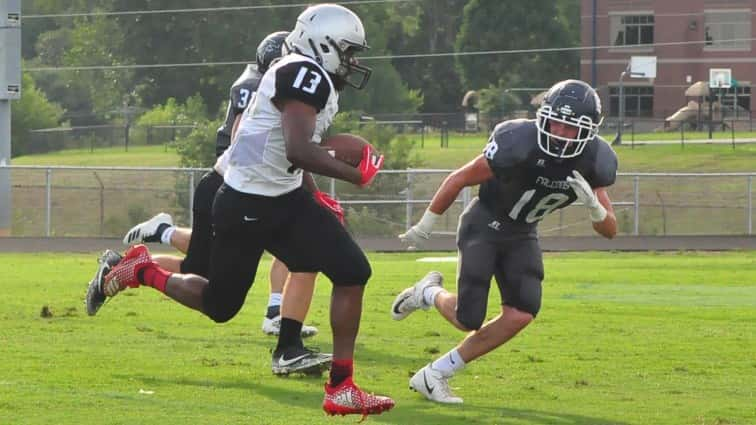 The move to Class 3A hasn't been kind to Trigg County, but the Wildcats look to have their strongest football team since making the jump from 2A in 2011.
Trigg County showed the ability to score last year but gave up 31 points a game, including 43.8 over their final five games culminating in a 61-33 loss to Elizabethtown in the playoffs.
The Wildcats have nine starters back on defense and look to have more depth. However, injuries can zap that depth quickly and has already cost the team their leading returning tackler. Jude Hunter was injured in Trigg's first scrimmage and will likely miss the season. The linebacker had 102 tackles, and his loss is magnified more with Evron Carlson's decision not to play this year. Carlson had 66 tackles, including 13 for loss.
Cade Bleidt, Robby Manzanares, and Kendric Adams return at linebacker, while Alex Curling, Trevor Lewis, and Khyran Vaughn will anchor the line.
Jacob Kent moves to the secondary to join Jakobe Bridges, Josh Visingardi, and speedster Jaquellus Martin. Kent and Martin saw limited time in the preseason with injuries.
Offensively, the Wildcats are stacked with weapons for quarterback Cam Jordan. The U.S. Naval Academy commit threw for 1,508 yards and ran for 933 more. He accounted for 28 touchdowns in helping the Wildcats average 29 points a game.
Jakobe Bridges led the Wildcats in catches with 48. He had 738 yards and nine touchdowns and is closing in on several career receiving records.
Andrew Syester has been the pleasant surprise in the preseason and gives Jordan a 6-foot-4 target opposite Bridges. Kion Thompson and Josh Visinagrdi will also make reliable targets.
Tayshaun Barker returns to the Wildcats after playing at Hopkinsville last year. He ran for 378 yards and five touchdowns as a sophomore.
Junior Jacob Johnson will also see time in the backfield for the Wildcats.
Up front, seniors Ty Meacham and Jacob Stallons return to a line that will feature Vaughn and newcomers Luke Alexander and freshman Matt Alex Ladd.
The kicking game is suspect, but the Wildcats may be able to overcome that with their big play ability in the return game.
Trigg County is just 1-6 in the postseason and has hosted only one playoff game since moving to 3A. The new intra-district format the KHSAA slipped past the coaches over the summer means teams will play district opponents in the first two rounds of the playoffs. The Wildcats are aligned in a district with Paducah Tilghman, who is ranked in the 3A top ten, Webster County, and Union County.
The Wildcats open their season Friday at Muhlenberg County. It will be the first meeting between the schools although Trigg was 7-0 against Muhlenberg South, 0-2 against Muhlenberg North; and 4-1 against Greenville before consolidation.
This is the 11th season of Muhlenberg County football after the consolidation of Muhlenberg North and Muhlenberg South High Schools. The Mustangs were 3-8 last year. Josh Staples is back for his second go-around with Muhlenberg County. He was 6-15 in the program's first two seasons in 2009-10.
Staples was 5-6 as coach at Muhlenberg South in 2008.
Coby Lewis is entering his ninth season as head coach of the Wildcats. His record is 39-46. Trigg County is looking to win their first true season-opener on the road since a 24-17 win at Hopkinsville on 2007.
Kickoff is at 7pm with the broadcast on WKDZ 106.5 FM and online at wkdzradio.com.