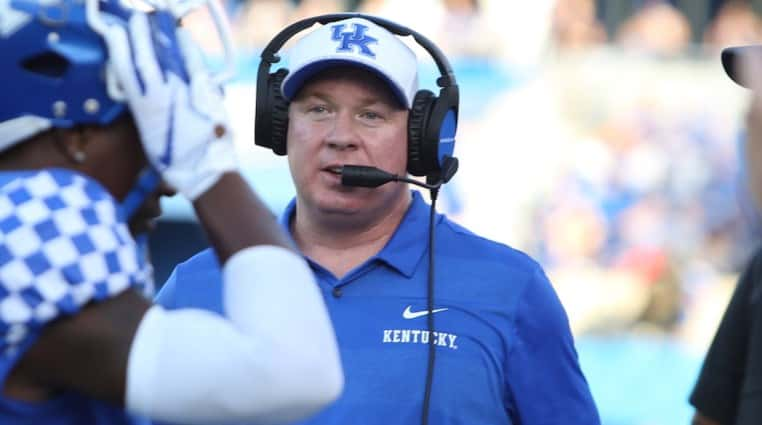 Photo by Vicky Graff
Writer Brad Crawford of 247Sports has ranked the Southeastern Conference's 14 head football coaches and no one can be surprised that Alabama's Nick Saban and Georgia's Kirby Smart are 1-2.
Pretty sure there can be no big argument with Texas A&M boss Jimbo Fischer being No. 3, either.
The rest of them? Well, you could probably make arguments for moving some up or maybe moving others down.
Kentucky doesn't always get a lot of respect nationally or even from SEC media members. However, Crawford has Kentucky coach Mark Stoops ranked seventh. He has Stoops in the top half of the league and third in the SEC East behind No. 4 Dan Mullen of Florida and Smart. Crawford had LSU coach Ed Orgeron No. 5 and Auburn coach Gus Malzahn No. 6 — a bit high for both of them I thought.
Here's what Crawford wrote about Stoops:
"I contemplated moving Stoops up a notch or two in this ranking following last season's historic 10-win season, likely as good as it gets in the Bluegrass. He flexed his coaching prowess last fall in Lexington, earning SEC Coach of the Year accolades after leading the Wildcats to nine regular-season victories for the first time in 41 years, including a 5-3 mark in SEC play — the team's first winning league record since 1977," Crawford wrote.
"He did so with dominance on defense and a ground-and-pound approach offensively that led to several marquee victories. If Stoops manages the same level of success this fall, it's time we consider him a Top 20 head coach nationally.
What about that? A top 20 head coach nationally. That's a big jump in respect if that happens but just having someone put him seventh among SEC coaches is a step in the right direction, too.
Here was his complete ranking of the coaches:
1. Nick Saban, Alabama.
2. Kirby Smart, Georgia.
3. Jimbo Fisher, Texas A&M.
4. Dan Mullen, Florida.
5. Ed Orgeron, LSU.
6. Gus Malzahn, Auburn.
7. Mark Stoops Kentucky.
8. Will Muschamp, South Carolina.
9. Joe Moorhead, Mississippi State.
10. Jeremy Pruitt, Tennessee.
11. Barry Odom, Missouri.
12. Derek Mason, Vanderbilt.
13. Matt Luke, Mississippi.
14. Chad Morris, Arkansas.