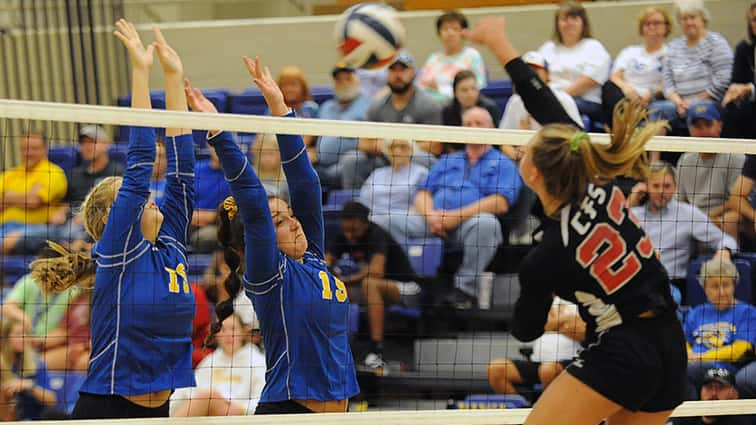 Caldwell County beat Christian Fellowship School 3-0 on Tuesday but the Lady Tigers had to work to take each set from the visiting Lady Eagles.
Caldwell, now 4-1, won by scores of 25-21, 25-21 and 27-25 in what was a competitive volleyball match throughout.
CFS (1-1) was within 21-19 late in the first set.
The Lady Eagles led the second set 12-9 and were as close as 22-21 late in the set.
The third set was uphill most of the way for Caldwell, with Christian Fellowship going up 12-8 midway through the set. The Lady Eagles still led 20-18 before Caldwell rallied to tie things at 20-20 and 22-22. The Lady Tigers went up 24-22 before CFS battled back to extend the set at 25-25. However, Caldwell won the final two points of the night to finish off the match.
Olivia Mitchell had 16 kills, a block and seven digs for the Lady Tigers. Abby Griggs recorded 11 kills and two blocks after being sidelined early in the season.
Mary Tays had eight kills and seven digs. Kendyll Prowell tallied 23 set assists along with three kills and eight digs. Savanna Tays added 16 set assists, three kills and two digs while Riley Thomas had one kill and nine digs.
Caldwell's junior varsity team also beat Christian Fellowship on Tuesday, winning 21-17, 17-21, 21-10.
Caldwell's freshmen won 21-11, 21-5.