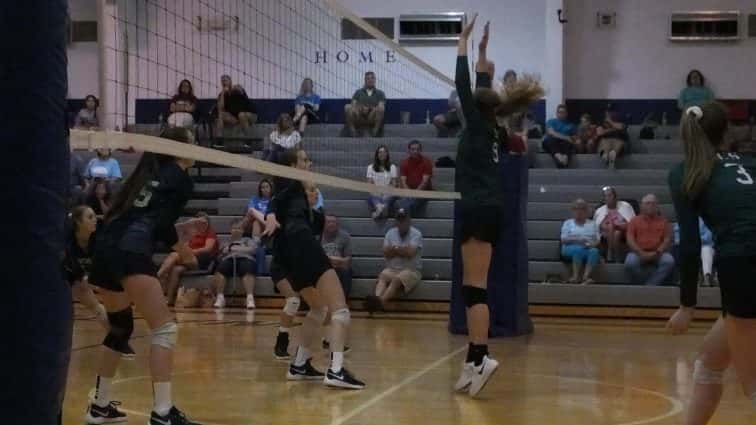 The Heritage Christian Lady Warriors came away with a split in a pair of matches Saturday on their home court. Both matches turned out to be sweeps, with HCA sweeping Oak Ridge 2-0, and then falling to Somerset Christian by the same 2-0 score.
In the opening match of the day against Oak Ridge, Heritage, with Lexie Crisp at the serve, went on a 15 point run to take a 16-2 lead in the opening set. Eight of the points on that run were service aces from Crisp. HCA went on to cruise through the opening set 25-7.
Oak Ridge led 6-2 early in the second set before the Lady Warriors got things rolling. HCA would go on to outscore Oak Ridge 14-6 to take a 16-12 lead, and then roll on to a 25-15 win to close out the match.
Lexie Crisp finished the first match with 8 aces and 1 kill. Elle Heltsley had 3 kills. Ashton Craft added 3 kills and one ace.
In the second match, the Lady Warriors were faced with a taller and more athetic opponent in Somerset Christian.
Somerset broke open a close first set about midway through the set to take a 25-18 win. In the second set, holding a 7-6 lead, Somerset ripped off the next six points and was never threatened again, as they took the set, and closed out the match 25-16.
Elle Heltsley had two kills and two aces in the match. Lexie Crisp added 3 kills and an ace.