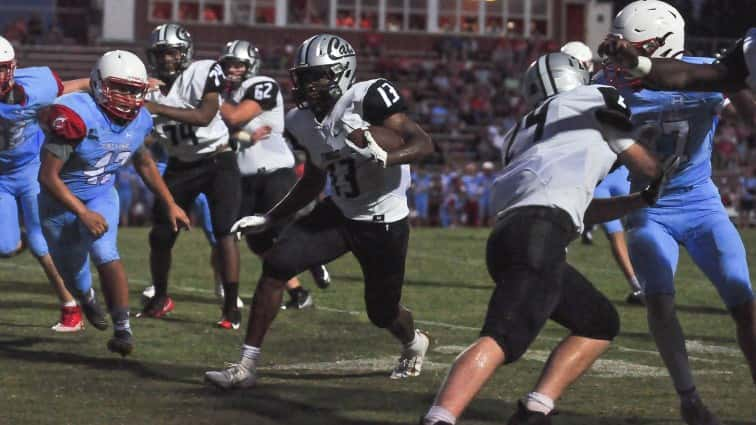 Trigg County rolled up over 500 yards of offense as they moved to 3-0 for the first time in eight years with a 57-7 win at Calloway County. The 50-point win was the most lopsided for the Wildcats in the 18-game series history.
Cam Jordan had another big night for Trigg County, who also saw several other offensive players have big games on the stat sheet. The Wildcat quarterback was 12-of-18 passing for 246 and four touchdowns. He also ran for 99 yards and two scores and accounted for six touchdowns for the second straight game.
Jordan became the seventh Trigg quarterback to pass for over 3,000 career yards.
Early, it was Jakobe Bridges who got off to the fast start with a 39-yard touchdown pass from Jordan and a 10-yard scoring run. Bridges finished with three catches for 86 yards and two rushing attempts for 17 yards. The senior needs five catches to pass Prince Northington for the Wildcat leader in career receptions. He currently stands second in career touchdowns with 18 and fifth in career yards.
Calloway County split Bridges' touchdowns with a 25-yard scoring strike from Kanyon Franklin to Luke Schwepker in the first quarter.
Trigg County tacked on three touchdowns in the second quarter as Jordan broke several tackles on a 29-yard touchdown run down the right sideline. He later connected on scoring strikes of 27 yards to Andrew Syester and 23 yards to Tayshaun Barker to give the Wildcats a 31-7 halftime lead. Barker had 47 yards rushing and 23 yards receiving in the contest.
Syester caught his second 27-yard touchdown of the night with 8:27 left in the third quarter for a 38-7 Trigg advantage. Syester finished with three catches for 86 yards.
Jordan later added a 2-yard run in the third quarter that triggered the running clock.
Cade Bleidt's 4-yard run and Kelsey Parham's 23-yard run in the fourth quarter closed out the scoring.
Jacob Johnson ran for 60 yards on five carries, and Parham added 58 yards as the Wildcats ran for 304 yards. They totaled 563 yards compared to 209 for Calloway County. The Lakers ran for 131 and threw for 78 yards.
Trigg County is now 9-9 against Calloway County, including 5-2 in Murray. The Wildcats improved to 3-0 with all three wins including a running clock. It's their first 3-0 start since Coach Coby Lewis' first season in 2011.
The Wildcats will travel to Ballard Memorial Friday to face an 0-2 Bomber team that lost to Crittenden County 50-6.