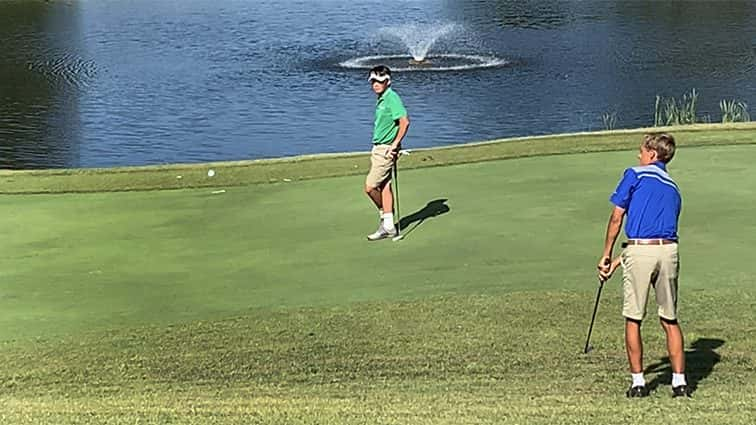 Two extra holes were needed to determine medalist honors in the Christian County Boys Golf Invitational on Saturday at Western Hills Golf Course in Hopkinsville.
Rocco Zakutney of Paducah St. Mary won the individual title in the event for the second straight year, edging Jiles Wyatt of University Heights Academy in the playoff.
Both players shot 1-over 73s through 18 holes.
Wyatt, a junior, had a chance to win the match on the par-4 1st hole, but missed a short par putt.
With both players bogeying the first playoff hole, play continued on the par-5 18th hole.
Zakutney, a sophomore, pulled his tee shot on the second playoff hole to the left, near the No. 1 fairway. However, he had an opening and was able to hit his second shot just over the green.
Meanwhile, Wyatt was forced to lay up short of the lake which runs in front of the No. 18 green and No. 1 tee box. His third shot was just off the back of the green in the fringe.
Zakutney's chip from behind the green rolled past the pin, which was located on the upper tier, and down to the bottom level. However, he was able to two-putt from there for par.
The St. Mary golfer had to merely clean up a short putt for par after Wyatt missed his par putt from about 20 feet.
Zakutney won the tournament in regulation last year with an even-par 72.
Todd County Central's Austin Rager was third. Mayfield's Andrew Watson placed fourth. Clarksville's Aidan Baker finished fifth. All of those players carded 2-over 74s.
Clarksville took team honors at 315. St. Mary was runner-up with a 319.
Other scores for UHA included a 76 for Weston Wood, 94 for Jude Doer and 104 for Luke Shouse.
Trigg County recorded a team score of 322. Hunter Reynolds had the low score for the Wildcats with a 75. Grayson Thomas shot 77, Ty Butts 84, Trey Carr 86 and Greyson Grissom 99. Also for Trigg, Dallas Ahart carded an 89 and Haydon Reynolds shot 98.
Hopkinsville had a 323 team total led by James Folz and Will Binkley, who each carded 79s. Joey Falco shot 80, Evan Pyle 85 and Calvin Demps 95. Also playing for Hoptown, Andrew Riggs shot 92 and Thomas Griese 108.
Josh Johnson led Christian County golfers with an 81. Micah Smith shot 84, Houston George 90, Jase Blue 93 and Chase Dawson 97.
Other scores included an 88 for Todd County Central's Jase Hampton and a 79 for Crittenden County's Sam Greenwell.