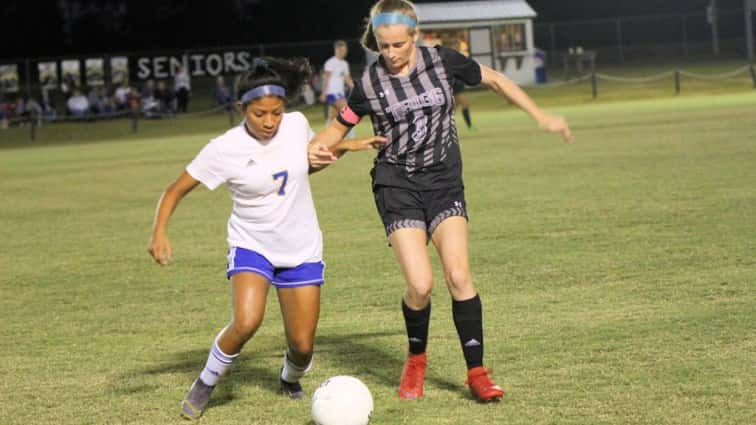 When Caldwell County was realigned to the 7th District, Crittenden County and Trigg County joined Lyon County in waving goodbye to the school that exerted its dominance over them in girls' soccer.
The schools still play each other on occasion, and Caldwell is just as dominant as ever.
Three different players scored multiple goals as Caldwell County scored five goals in a six-minute span to beat Trigg County 9-1 Thursday in Cadiz.
Lucy Goffinet recorded the natural hat trick with the game's first three goals in the first half. Trigg's defense, that had allowed only on Caldwell goal in the first 30 minutes, had a breakdown in the final 10 minutes of the half as Caldwell turned up the pressure.
Hannah Young, Goffinet, and Morgan McDaniels each scored in the final two minutes of the half for a 6-0 Caldwell lead.
Reagan Hodge and McDaniels opened the second half with goals to push the Lady Tiger lead to 8-0 in the 44th minute.
Trigg County avoided the shutout when DeDe Barbee scored in the 48th minute. Hodge rounded out the Caldwell scoring with her second goal of the game in the 54th minute.
Kaylee McEnaney had three assists for Caldwell, and Goffinet adding two as part of her six-point night.
Caldwell's defense limited Trigg to just six shots in the game.
Caldwell County is now 22-0-1 all-time against Trigg County. The tie came in 2012.
Earlier this month, the Lady Tigers improved to 27-0 all-time against Crittenden County.
The Lady Tigers (10-5-2) will host Paducah Tilghman Tuesday.
The Lady Wildcats saw their season record even at 8-8. They will play at Fort Campbell Tuesday.