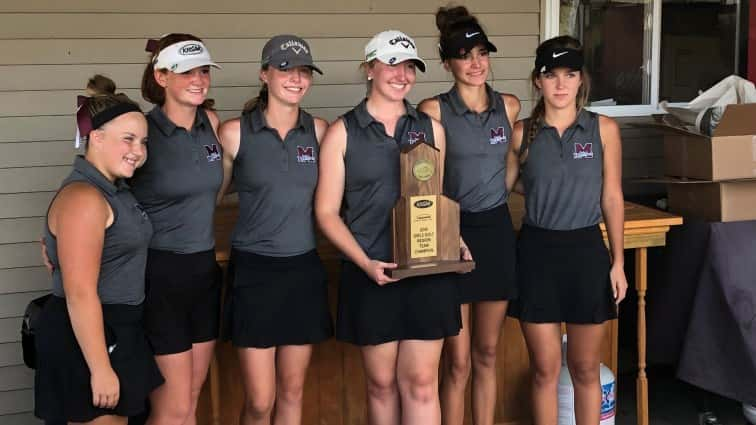 Daviess County edged Madisonville by three shots last year to claim the girls' Region 2 golf title. There would be no such drama on Monday. With their top four golfers shooting under 85, the Lady Maroons captured their second region title in three years.
Senior Rachel Carver, who shot a 108 at region last year, fired a round of 80 to finish tied for fourth at the Central City Country Club. Kaitlyn Zieba added an 81 to finish eighth, and Karra Tucker an 83 which tied her for ninth place. Kat Weir turned in a big round for Madisonville with an 84 – some 20 shots better than her 2018 region score. Stella Knight added a 109.
Madisonville scored 328 points, which was 19 shots lower than second place Daviess County and 22 points lower than third place Owensboro Catholic.
Madisonville advances as a team to next week's state golf tournament at the Bowling Green Country Club.
GIRLS' REGION 2 GOLF RESULTS
(*- State Qualifier)
75 Emma Payne (Owensboro Catholic)*
76 Macey Brown (Apollo)*
79 Holly Holton (Daviess County)*
80 Kenna Newsome (Henderson County)*
80 Rachel Carver (Madisonville)
80 Sarah Hagedorn (Union County)*
81 Kaitlyn Zieba (Madisonville)
83 Hannah Sumner (Christian County)*
83 Karra Tucker (Madisonville)
84 Kat Weir (Madisonville)
84 Addison Heady (Daviess County)*
85 Maddi Roberts (Owensboro Catholic)
86 Bridget Owens (Christian County)
86 Abby Bahnick (Owensboro Catholic)
89 Cate Blane (Hopkinsville)
89 Tanner Robards (Muhlenberg County)
89 Emilee Clark (Daviess County)
94 Brooklyn Richardson (Muhlenberg County)
95 Brooke Brown (Apollo)
95 Erin Johnson (Webster County)
95 Hadleigh Hunter (Daviess County)
96 Mary Conway (Ohio County)
96 Rheagan Lindsey (University Heights)
96 Conlee Lindsey (University Heights)
96 Kirsten Henderson (Daviess County)
99 Jocelynn Magan (Ohio County)
99 Dylan Elliott (Henderson County)
99 Rylea Dixon (Henderson County)
99 Caroline Hope (Muhlenberg County)
99 Olivia Sprague (Union County)
100 Addison Carter (Apollo)
100 Anna Blane (Hopkinsville)
101 Kursten Chinn (Ohio County)
102 Anna Fort (Hopkinsville)
104 Ellie Colburn (Hopkinsville)
104 Conleigh Osborne (Owensboro Catholic)
105 Whitlee Stovall (Muhlenberg County)
107 Elli Graves (Ohio County)
108 Ava Colburn (Hopkinsville)
108 Maddee Huddleston (Dawson Springs)
109 Brylee Suprlin (Dawson Springs)
109 Stella Knight (Madisonville)
111 Mary Ann Lyons (Apollo)
111 Susan Schalosky (Breckinridge County)
111 Maggie Hollis (Henderson County)
111 RC Porter (Owensboro Catholic)
112 Sydney Kennedy (Hancock County)
112 Eva Cassidy (Union County)
114 Neveah Henderson (Webster County)
115 Allu Shaw (Breckinridge County)
116 Peyton Rust (Apollo)
116 McKenzie Lynch (Hopkins County Central)
117 Riley Johnson (University Heights)
119 Jessah Hayden (University Heights)
120 Briley Choate (Butler County)
122 Lexi Johnson (University Heights)
123 Morgan Seibert (Hopkins County Central)
128 Grace Riddle (Hopkins County Central)
128 Sami Smith (Breckinridge County)
130 Natalie Austin (Webster County)
130 Natalie Littlepage (Webster County)
136 Chloe Mahurin (Webster County)
137 Camryn Russell (Breckinridge County)
143 Karsyn Grundy (Muhlenberg County)
148 Calli Allen (Hopkins County Central)
150 Katie Guy (Hopkins County Central)
159 Autumn Frazier (Butler County)
165 Nikki Brown (Butler County)
TEAM TOTALS
328 Madisonville*
347 Daviess County
350 Owensboro Catholic
382 Apollo
387 Muhlenberg County
389 Henderson County
395 Hopkinsville
403 Ohio County
428 University Heights
469 Webster County
515 Hopkins County Central