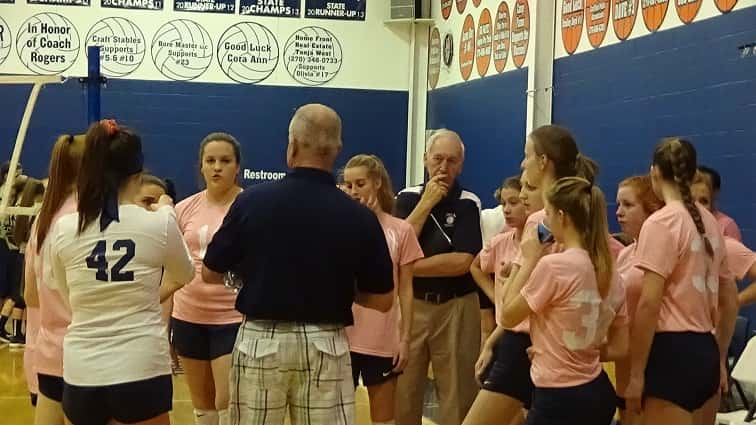 Fresh off a regional championship, the Heritage Christian Academy volleyball team welcomed Belmont Christian Academy to Hopkinsville on Thursday, beating the Hawks 3-1.  The Lady Warriors, ranked 5th in the current KCAA Power Poll, are looking to stay sharp before they head to West Jessamine to take part in the KCAA State Tournament on November 1.
In Coach Eldridge Rogers' last home game on the sidelines, the Lady Warriors started slowly, trailing 0-3 before tying the set at 7-7.  It was tied again at 12-12, before Allie Schluckebier and Lexie Crisp powered a 6-0 run to put HCA in control.  After taking a 10-point lead after a kill by Elle Heltsley, Crisp finished the set with an ace for a 25-14 win.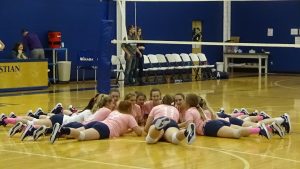 The Lady Warriors rotated their lineup to start the second and found themselves down 13-20 before mounting a comeback.  Meredith Crunk and Heltsley each had a kill and an ace, Schluckebier had 3 kills, and they were within 21-24 after an ace by Elizabeth Pitts.  However, the Hawks added the final point after an HCA serve into the net to tie the match 1-1.
Three-straight aces by Heltsley gave HCA an early 7-2 lead in the third, but Belmont fought back to tie the set at 12-12.  Crisp ran-off four-straight aces to give the Lady Warriors a 16-12 lead and force a Belmont timeout, but the Hawks once again battled back to tie it at 17-17.  Crunk and Schluckebier had 2 kills each to fuel a 8-0 run to close-out the set and give HCA a 2-1 advantage.
With the third set tied at 9-9, Crunk reeled-off four-straight aces to give HCA the lead for good.  Belmont trimmed the margin to 1 at 18-17, but the Lady Warriors finished strong once again on a 7-2 run to earn the 3-1 victory.