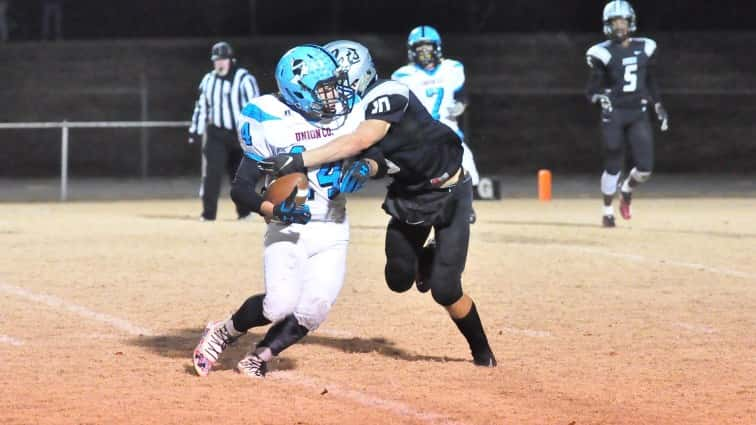 Union County turned the tables on Trigg County and ended the Wildcats' season Friday with a 26-13 win in the first round of the Class 3A playoffs.  The win came two weeks after Trigg beat the Braves by 26 points.
The difference was Union County's ability to run the football.  The Braves, who ran for just 151 yards in the loss in Cadiz two weeks ago, had 297 yards on 41 carries Friday.
Matthias Ervin came into Friday's game with 379 rushing yards.  He ran 13 times for 175 yards and two touchdowns against the Wildcats, while teammate Corithian Seales-Portee added 126 yards and a score.
A week after rolling up 54 points and 591 yards against Caldwell County, the Trigg County offense sputtered most of the night.  Trigg totaled just 120 yards and one offensive touchdown against a Brave defense that has allowed just 23 points in their six wins.
Ervin's first touchdown came from five yards out with 8:25 left in the first half for a 6-0 Union lead.
Trigg answered when Jakobe Bridges returned a punt 55 yards for the score with 2:58 left in the half.  Clayton Setliff, who joined the team from the soccer team, added the extra point for a 7-6 Trigg lead that stood at halftime.
After a Trigg punt on the opening drive of the second half, the Braves rolled off three touchdowns in a 4:15 span of the third quarter to put the game away.  Ervin scored from one yard out to give the Braves a 12-7 lead with 6:53 left in the quarter.
Freshman Cannon Sheffer picked off a Cam Jordan pass off a deflection and returned it 41 yards for the score and a 19-7 Union lead.  Seales-Portee scored on a 29-yard run with 2:38 left in the quarter to put Union ahead 26-7.
Trigg scored their first offensive touchdown of the game with 2:45 left when Jordan connected on a 24-yard pass to Bridges in the back of the end zone.
Jordan finished 9-of-24 passing for 80 yards with a touchdown and two interceptions.  Tayshaun Barker led the Wildcat rushers with 33 yards on four carries.  Cade Bleidt, who ran for 142 yards and two scores two weeks ago against the Braves, had three carries for 11 yards.
Union quarterback Gabe Adams was 7-of-9 passing for 70 yards.
The Braves (6-5) won their first playoff game since 2013.  They will travel to Paducah Tilghman next week.
Trigg County's season ends at 6-5 – their first winning season since 2014, which was also their last playoff win.  Since moving to Class 3A in 2011, Trigg County is 1-7 in playoff games.