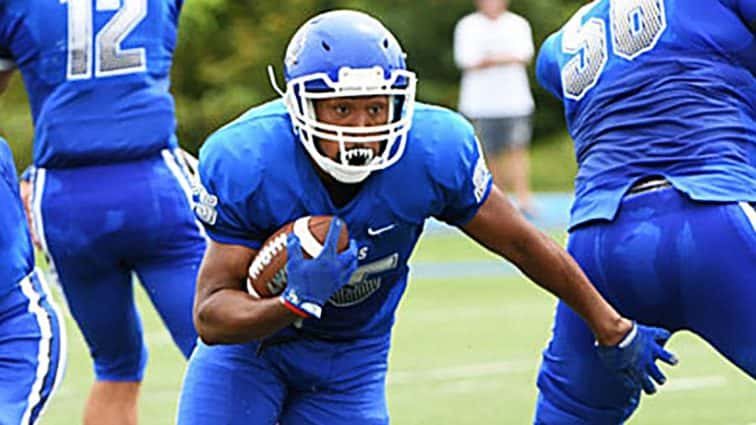 Former Caldwell County High School standout Jaylen Boyd has been named to the 2019 All-Mid-South Conference Bluegrass Division First Team.
Award winners were announced by conference officials on Wednesday.
The individual awards and all-conference teams are selected by a vote of the Bluegrass Division's coaches. Coaches are not allowed to vote for their own players.
Boyd and the 10-0 Lindsey Wilson Blue Raiders host St. Francis (Ind.) on Saturday in the first round of the NAIA playoffs this Saturday.
Boyd, a 2015 Caldwell County grad, is second on the Tigers' all-time rushing list with 5,451 yards. He owns the Tiger single-season rushing record with 2,041 yards in 2012.
Boyd was a freshman on Caldwell's 2011 team which set a school record for points in an 80-62 win at Calloway County. He was a senior when the Tigers outscored Christian County 78-57 in Hopkinsville in 2014.
Now a junior at Lindsey Wilson, Boyd is the leading rusher for the Blue Raiders with 760 yards on the ground this season. He has scored eight touchdowns rushing and is averaging 6.9 yards a carry.
Boyd also has caught 22 passes for 315 yards and three more scores.
In addition, Boyd has returned 10 kickoffs for 330 yards, including a 94-yard touchdown return this season.
Boyd's teammate, quarterback Cameron Dukes, is the Craig Mullins MSC Bluegrass Offensive Player of the Year while Lindsey Wilson head coach Chris Oliver is the 2019 Ron Finley Bluegrass Division Coach of the Year.
Oliver picks up his third Coach of the Year honor after guiding Lindsey Wilson to an undefeated regular season. Lindsey Wilson claimed the MSC Bluegrass Divisional title and is currently ranked No. 6 in the NAIA.