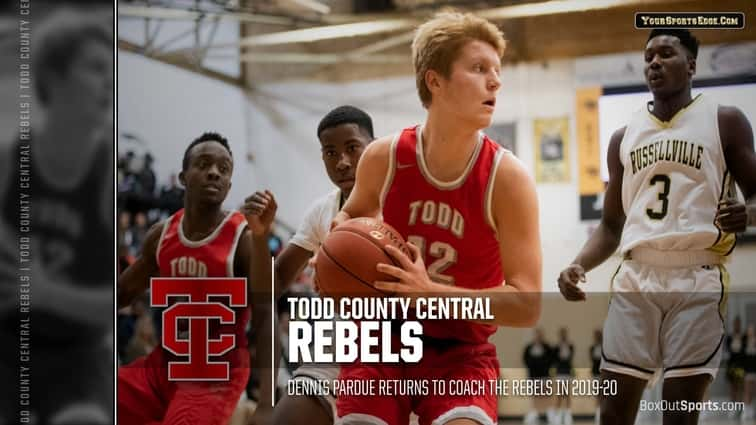 After losing the final 15 games last season on the way to a 5-24 record, the Todd County Central boys' basketball team is looking for a fresh start in 2019/20.  Coach Dennis Pardue is in for his second time around at the helm, replacing Frank Johnson after three seasons and a 33-54 record.  Pardue had an extremely successful run with the Rebels from 1998-04, compiling a 105-56 record with three district titles and three All-A region championships.  Coach Johnson's district title and winning record of 19-13 in 2017/18 were the first of each since 2004, Pardue's final season in Todd County.
For the second-consecutive season the Rebels lost their top scorer to graduation, with big man Jon Calvery's 17.5 ppg and 11.8 rpg leaving a hole in the paint.  Coach Pardue will also be looking to replace point guard Clayte Weathers, who moved on to play at Spalding University.  Weathers averaged 7.4 ppg and knocked down 28 3-pointers during his senior season, third-best on the team in both categories.
Leading the returnees charged with righting the Rebel ship is senior three-sport athlete Austin Rager.  Rager's 8.6 ppg and 2.9 rpg were both second on the team behind Calvery's totals, while his 40 3-point makes led the squad.  Also back on the perimeter is senior Deonte Toliver, whose 34.5% shooting from behind the arc led the Rebels.
Three more seniors will be counted on to make increased contributions after logging significant minutes last season.  Kimahri Briggs and DJ Johnson joined the team late in the preseason after wrapping up postseason play on the gridiron, while Dominique Morrow will provide athleticism for a Rebel team that will look to get out on the break more this year.
Sophomore Amari Andrews has looked good in the preseason after putting up 12 points in a scrimmage win over Ballard Memorial, while freshman Micah Smith was also in double figures with 10 against the Bombers.
The Rebels get the season started on December 2nd when they welcome Hopkins County Central to Elkton, before spending the holidays playing at the Hebrews 12 Coffee Christmas Classic at Butler County, followed by the Beef O'Brady's/Danny Annis Memorial Tournament at Ohio County.
After finishing 1-6 in 13th District play last season, Todd Central will look to get off to a good start when they entertain Logan County just after the New Year, before they host Metcalfe County in their 4th Region All-A Classic opener on January 13.
YSE's Tom Rogers caught up with Coach Pardue at the Meet the Rebels event to get his thoughts on the upcoming season.