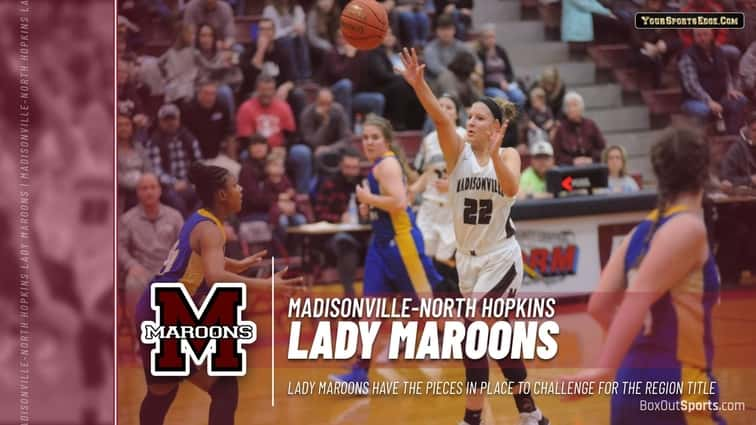 After winning 23 games and reaching the 2nd Region semifinals last season, the Madisonville-North Hopkins girls are looking to take the next step this season.
With the bulk of last year's squad returning, the Lady Maroons are on the short list of contenders for the 2nd Region championship in 2019-20.
"We return a lot of experience and want to build on the success we had last year," said head coach Jeff Duvall, who begins his fourth season at the Lady Maroon helm.
Sophomore guard Camryn LaGrange is back after leading Madisonville in scoring last season at 16.6 points a game. LaGrange, who also excels on the Lady Maroon soccer team, was second on the team in rebounding at 6.6 a contest.
Five-foot-11 twins Courtney and Lindsey Peyton return for their senior seasons. Courtney tallied 15.0 points and 5.7 rebounds a game last year while Lindsey had 8.7 points and a team-high 8.1 boards a night.
Junior forward Kara Franklin is another returning starter after scoring 5.4 points a game last year while grabbing 4.2 rebounds.
Sophomore guard Kaitlyn Zieba saw action in all 31 games last season while freshman guard Amari Lovan also looks to move into a key role this season.
Senior Somaya Stafford will also add backcourt depth for the Lady Maroons. Stafford scored 5.7 points and grabbed 3.9 rebounds a game last season while playing for Hopkins County Central.
Madisonville is the favorite to repeat in the 7th District this season but could get a strong challenge from a Caldwell County squad that only graduated one player last year.
Meanwhile, most observers place the Lady Maroons just behind defending champion Henderson County and Webster County in the 2nd Region chase.
The Lady Maroons will tip off the 2019-20 season on Thursday, Dec. 5, with a trip to Union County.
Madisonville's upcoming slate includes a trip to Panama City, Fla., for the Marlin Holiday Classic Dec 27-30.