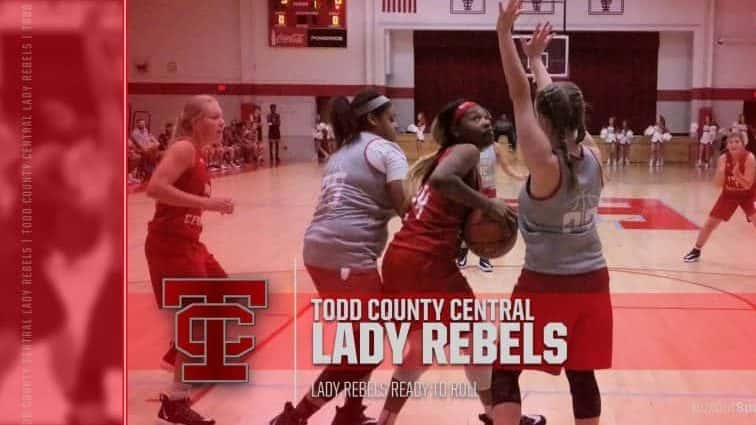 After a four win season last year, and suffering heavy graduation losses, the Todd County Central Lady Rebels are looking to use an infusion of youth, with a blend of some key returnees, to make some steps forward during the 2019-2020 season. Scott Fleming, a former girls assistant, and longtime teacher at Todd County Central High School, took over as head coach back in June, and is working to set the foundation to return to the 4th Region tournament after missing the tourney last season, and to give the Lady Rebels their first winning season since 2012-2013, when they finished 18-10 and reached the 4th Region semifinals.
The first challenge for the Lady Rebels will be to find some offensive firepower. Gone are four of the top five scorers from last season. Amy Brumfield, Paige Rager, Jasmine Mimms, and Kinley Reding combined to score more than 27 points per game on a team that averaged fewer than 40 points per game over the course of the season.
Seniors Jordan Weathers and Emoni Fort, who averaged 3.1 and 2.7 points per game respectively, will need to elevate their games from the very beginning of the season. The pair will be counted on to lead and to find a way to get points on the board. Sophomore Tamiya Foster, who saw limited action last season, is a younger player on the roster who could play a much larger role in 2019-2020.
The Lady Rebels see a youth movement arriving for the season, as five freshmen are on the roster for the upcoming season. The freshman expected to make the most immediate impact is Lucy Chester. Chester, who helped lead the volleyball team back to the 4th Region tournament this season, should make an immediate impact for the Lady Rebels. If not starting in the opener, expect Chester to be in the starting lineup before very long.
Three other players to keep your eyes on for the Todd County Central Lady Rebels are seniors Shelby Johnson and Emma Harris, as well as junior Eliza Simons. Johnson and Simons will be counted on to hit the glass, while Harris could be an offensive surprise for the Lady Rebels.
Look for the Lady Rebels to make some steps forward during the season, how it shows on the overall record is still yet to be seen. The likelihood is that they will be better as the season goes on, as the returning players and the new arrivals all learn their roles on this edition of the Lady Rebels.
Watching the team at Meet the Rebels, and in their scrimmage against Heritiage Christian, there appears to be better chemistry, and a different attitude on the court. Those are always the first steps in laying the foundation of getting the program back on track.
Coach Scott Fleming talks about this year's Lady Rebels.