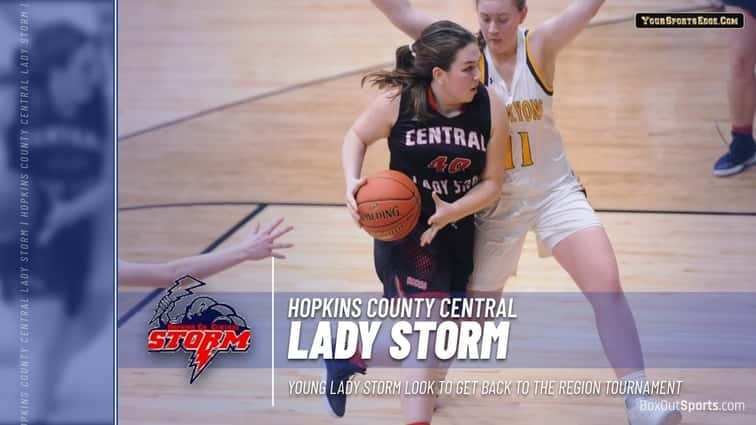 With just one starter returning, head coach Nancy Oldham is in a rebuilding phase at Hopkins County Central.
The Lady Storm lost three senior starters off last year's 12-16 squad. That group includes leading scorer and rebounder Nykea Ikeard, who averaged 11.9 points and 10.4 rebounds a game.
The squad then lost even more experience when a junior starter elected not to come back this season.
Oldham will build around returning point guard Madison Grigg, whom the head coach calls "our spark plug to our engine."
The junior averaged 5.4 points a game last season. Grigg is strong on the defensive end and has worked hard over the summer to improve her offensive game. Oldham expects her to be an offensive threat for the Lady Storm this winter.
Guard Keri Reynolds and forward Hailie Hollis, both juniors, figure to play key roles for Hopkins Central. Those two saw action in most of the varsity games last season. Keli Reynolds, Keri's twin sister, will also battle for playing time.
Two freshmen also figure to be in the mix — guard Emilie Jones and forward Mercy Sutton. Both saw some varsity action late last year once their middle school season was over.
Oldham also said she has high hopes for sophomores Briana Fritz and Kire Peyton. Fritz sat out last season with an ACL injury while Peyton transferred in from Dawson Springs after scoring 4.4 points a game for the Lady Panthers last year.
While this year's squad lacks varsity experience — and size, Oldham noted that team chemistry should be a strength. Twelve of Hopkins Central's 14 players return from last season while 10 of those 12 have been playing together since middle school.
The Lady Storm certainly doesn't lack experience in the coaching ranks. Oldham has 322 career wins as a head coach in the 2nd Region, including three regional titles.
Oldham was Hopkins Central's first head coach when the school opened in 1996. She had been head coach at West Hopkins before consolidation led to the new school in Mortons Gap.
Oldham stepped down after the 2004 season to become athletic director at Hopkins Central. She returned to the bench prior to the 2018-19 season.
Oldham said she has high expectations for this year's squad, even with its inexperience, noting that it's a "great group of young ladies that work hard in practice, are eager to learn and try to do what we ask of them. This group of players have put their time in and now it's their time to shine on the floor."
The Lady Storm will open the regular season at home on Tuesday, Dec. 3, when it hosts University Heights Academy.