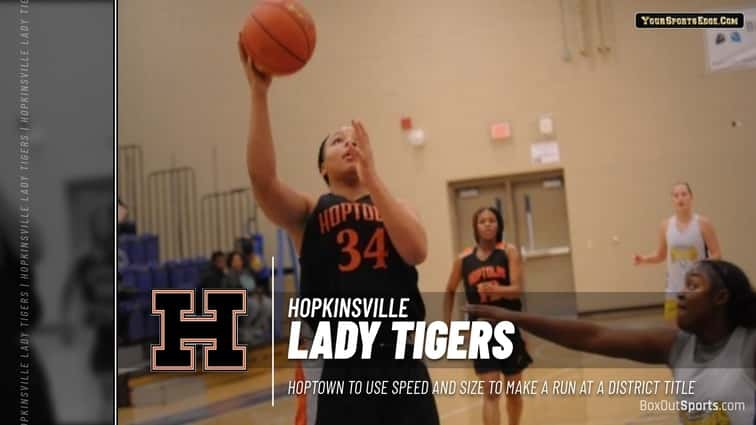 After the 2018-19 season came to an end with a 46-36 loss to Madisonville-North Hopkins in the opening round of the 2nd-Region tournament, the Hopkinsville girls' basketball team saw its three senior statistical and emotional leaders move on, two to the college ranks.  At first glance that might indicate growing pains for the Lady Tigers in the upcoming season, but a combination of a couple of strong returnees and a fresh crop of hard-working young players have them looking to climb back to the top of the 8th District.
After beating Christian County in each of the first two seasons after coach Anthony Babb took over the program, the Lady Tigers have been on the other end in the last two campaigns, including a heartbreaking double-overtime loss to the Lady Colonels in the championship game last year.
That was the last go-around for the Lady Tigers' top three players, seniors Breon Oldham, Yogianah McKnight and Jayla Rose.  Oldham, a 1,000-point scorer during her career and the team leader in points last season with 15.1 ppg, moved on to play at Shawnee Community College, joined there by the team's second-leading score and rebounder, Jayla Rose (15 ppg, 7.3 rpg).  McKnight was third in scoring at 13.1 ppg, while knocking down 73 3-pointers at a 38.2% clip to pace the Lady Tigers from long range.
Hopkinsville does boast a couple of returning players who played significant minutes last season, with sophomore Donisha Flowers and junior Lakayla Samuel forming the core of this season's squad.  Flowers was a force down low as a freshman, pulling down a team-high 8.8 rebounds per game to go with 7.1 ppg.  Samuel was big on the boards as well, collecting 6.3 rpg, but will be counted on to play on the perimeter this season.
A host of inexperienced players will look to fill holes for the Lady Tigers, with junior Dashiya Radford the only one of the group to log minutes last season.  Sophomores Shaterrea Bellamy and Aloria Moyd will see time, along with freshmen Faith Dansbury and Ronnijha McGee.
It all gets started for Hoptown on Tuesday when the welcome Kenwood, TN to Tiger Gym, before going on the road to Muhlenberg County in the First State Bank Tip Off Classic.  8th-District play begins with a trip to post to face Fort Campbell on December 7, with a high-profile meeting with Christian County just a week later.  They'll close out 2019 at the Murray Bank Hardwood Tournament at Calloway County, where they'll face the Lady Lakers and Paducah Tilghman.
Before a recent practice, Coach Babb talked about what he's seen from his team in the preseason and says he's pleased this group is holding each other accountable as they begin the season.