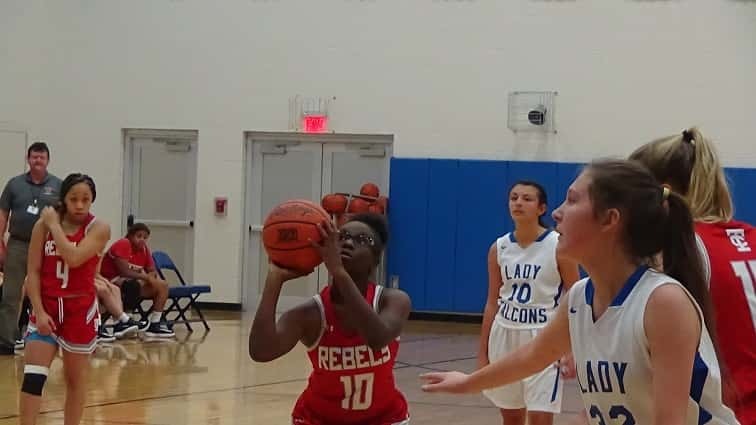 After a lopsided, opening-night loss to McLean County on Tuesday, the Todd County Central girls' basketball team got into the win column with a 55-35 victory over hosts Fort Campbell on Wednesday night.  The point output is the most in a game for the Lady Falcons since the 2016-17 season.
The Lady Rebels jumped out to a 8-0 lead and led 12-3 after the first quarter.  Eliza Simons and Lucy Chester each scored 4 points.
However, the Lady Falcons responded with 11 points in the second quarter, including 5 from 7th-grader Patricia Gregory.  Simons and Chester combined for 8 second-quarter points, with Emma Harris adding 4, and Todd County led 28-14 at the break.
Freshman Asia Cabili chipped in 4 points in the third quarter, but the Lady Falcons got little else on offense and were outscored 14-7.  Harris tacked on 4 more points for the Lady Rebels.
With Todd County giving the starters a rest for much of the remainder of the game, with the Lady Falcons enjoying their most prolific quarter behind 6 more points from Gregory.  Fort Campbell outscored the Lady Rebels 14-13 over the final 8 minutes for the final 20-point margin.
Chester led all scorers with 13, followed by Simons and Harris with 10 each for the Lady Rebels.
Of the Lady Falcons' five players to score, none are older than 9th grade and three are in middle school.  Gregory scored 11, joined in double figures by Cabili with 10.  8th-grader Marisa Cole had 8, freshman Arianna McDaniel added 5, and 7th-grader Olivia Connor got a point.
The game was decided on the backboard, with the Lady Rebels holding a 46-29 edge in rebounds, including 20 offensive.  Todd County shot 26-65 from the field for 40%, while the Lady Falcons finished 12-49, 6-19 from 3, for 24% overall.
Fort Campbell will open 8th-District play on Saturday with a visit from Hopkinsville.  Todd County Central will be back on the court on Friday when it makes the long trip to face Ballard Memorial.