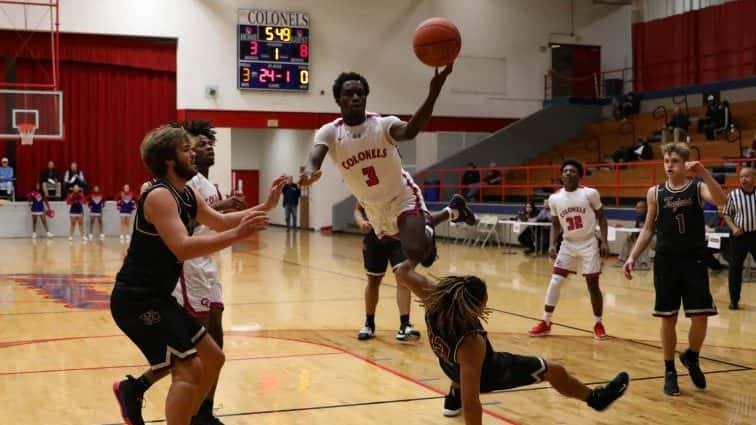 Recognizing a void in the middle, Destin Allen and Hunter McNaughton took full advantage Thursday and vaulted Webster County High School over host Christian County, 56-50, in a boys' basketball 2nd Region tilt at Lyle Dunbar Gymnasium.
With the Colonels' 6-foot-5 sophomore center Olajuwon White (concussion protocol) in street clothes, the beefy duo of Allen (17 points) and McNaughton (16) combined for 33 points and 17 rebounds, giving the Trojans their second regional victory of the season in as many tries.
It was the first win for the Webster program over CCHS since Jan. 6, 2015.
The Trojans, who led 28-22 at halftime, and never trailed in the second half, also got 12 points and a key third-quarter sequence from senior point guard Tyler Camplin to stay unbeaten.
Senior Stephen Bussell scored a game-high 18 points for Christian County, and assumed the role of primary rebounder in White's absence, but it wasn't enough for the Cols (1-1), who dropped their first contest of the young season.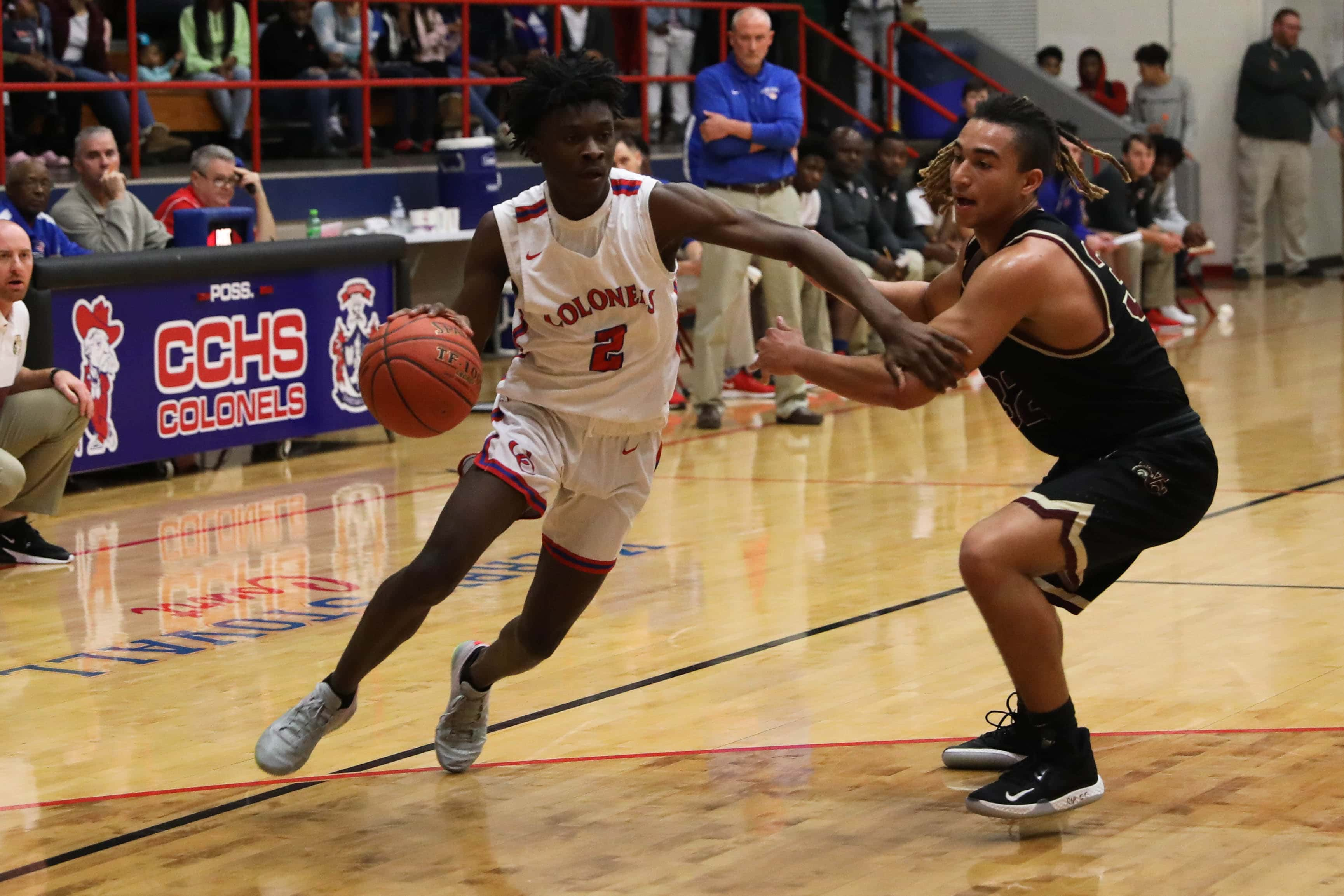 CCHS made Webster County earn every bit of its success, unleashing a relentless full-court pressure attack for the majority of the 32-minute affair. When Zaine Geary scored back-to-back buckets off the bench late in the second quarter, though, it gave the Trojans a 23-20 advantage it would not relinquish the rest of the night.
McNaughton, who converted a pair of and-one opportunities to start the game, went 6-of-8 from the free throw line and set the tone. Allen, who scored a runout layup in the closing seconds to put WCHS up by six at the midway break, drilled nine free throws and pulled down seven boards in crucial moments.
Christian County appeared to find momentum on a 3-pointer by Kobe Dillard – one of six Colonel treys in the game – with a couple minutes left in the third quarter, cutting Webster's lead to 37-34, but that's when Camplin took control.
The gutsy senior answered with a deep ball of his own, leaped to snag a steal at midcourt on the Cols' ensuing possession, drew a CCHS foul and went on to assist on a lay-in by Aiden Winn through the lane, staking the Trojans to a 42-34 lead.
That string of plays eventually led to a 7-0 run and 44-34 WCHS lead at the end of three quarters.
Bubba Leavell and Herb Forte both knocked down 3-pointers in the fourth quarter to try and keep the Colonels within striking distance. Forte finished with seven points, as did Dillard. CCHS senior Mikeon Mathis, who left temporarily with an ankle injury, scored six of his nine points in the first half.
Thursday's game was the last one at home for Christian County until Jan. 7, 2020 – a district matchup with University Heights Academy. The Colonels will travel Saturday to take on John Hardin in Elizabethtown as part of the Kentucky High School Basketball Hall of Fame Classic.
The Colonels then take on defending 2nd Region champion Madisonville-North Hopkins on Dec. 10, crosstown rival Hopkinsville on Dec. 13 and an opponent to be determined Dec. 14 in the Mike Murphy Classic at Mason County.
(— Chris Jung)
SCORE BY QUARTER
1Q 2Q 3Q 4Q
WCHS (2-0) 15 13 16 12 – 50
CCHS (1-1) 12 10 12 16 – 56
INDIVIDUAL SCORING
WCHS: Destin Allen 17, Hunter McNaughton 16, Tyler Camplin 12, Aiden Winn 7, Zaine Geary 4; CCHS: Stephen Bussell 18, Mikeon Mathis 9, Kobe Dillard 7, Herb Forte 7, Qua Chambers 4, Bubba Leavell 3, Jalil Farrow 2
3-POINTERS
WCHS: 3 (Camplin, Winn, Allen); CCHS: 6 (Bussell 2, Dillard, Mathis, Forte, Leavell)