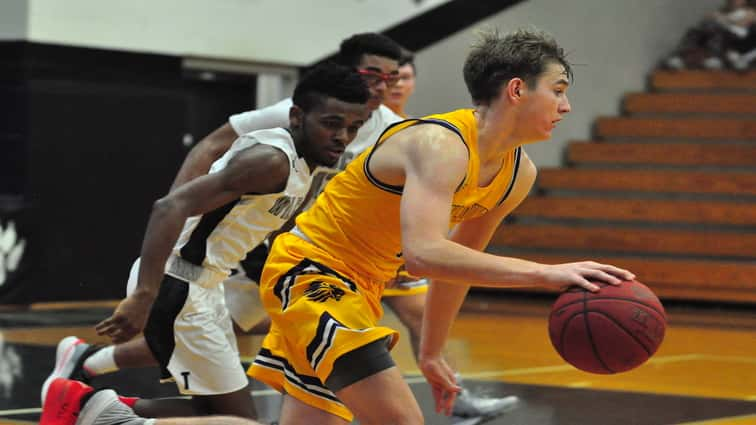 Travis Perry proved to be the difference Lyon County needed in a 73-60 win at Trigg County Tuesday to push their district record to 3-0 to start the season.
The eighth grader scored 31 points and knocked down 12-of-15 free throws to lead the Lyons to their sixth straight win over Trigg – their longest win streak in the series since 2003.
Lyon County scored the game's first eight points and never let Trigg get closer than five points the rest of the game.  Lyon's quickness bothered the Wildcats as they hit nine of their first 20 shots to build a 24-13 first quarter lead.  Perry had eight points and two steals in each of the first two quarters as Lyon extended their lead to 20 points just before halftime.
With Jackson Shoulders battling foul trouble most of the game, the Lyons got 18 points off their bench.  Nick Whalin, Luke Gilbert, and Justin Crawford combined for 13 points and eight rebounds in the post in Shoulders' absence.
Lyon County would build their lead to as many as 24 points in the second half only to see Trigg cut the deficit to 12 points late.
In addition to his scoring output, Perry had six rebounds and six steals.  Gunnar Bingham had a solid night with 11 points, five rebounds, and four steals.  Lyon was outrebounded 46-44, but on a night when their outside shots weren't falling, they scored 20 second chance points from 17 offensive rebounds.  Lyon shot just 35-percent from the field and 2-of-23 from 3-point range.
Kion Thompson led Trigg County with 17 points.  Jakobe Bridges added 11 points and eight rebounds, and Kendric Adams had nine points and ten boards.  Khyran Vaughn scored six points and yanked down a season-high 16 rebounds.
However, Trigg's 20 turnovers led to 27 Lyon County points.
Lyon County improved to 3-0 in the district and 6-2 overall.  They will play one more game before Christmas when they travel to Ballard Memorial Monday.
Trigg County (3-3, 2-1) will host the four-team KMC Classic Friday and Saturday.  The Wildcats will play Hancock County (1-5) at 7:30 Friday in their first meeting in 19 years.  Graves County and St. Mary will play the 6pm opener.
Lyon County                       24    16    20    13—73
Trigg County                      13     9     16     22—60
Lyon County (6-2) – Perry 31, Bingham 11, Wahlin 6, Hawkins 5, J. Shoulders 5, Gilbert 4, Blackburn 3, Reddick 3, Cissell 3, Parker 2
Trigg County (3-3) – Thompson 17, Bridges 11, Adams 9, Miles 6, J. Vaughn 6, K. Vaughn 6, Cunningham 5