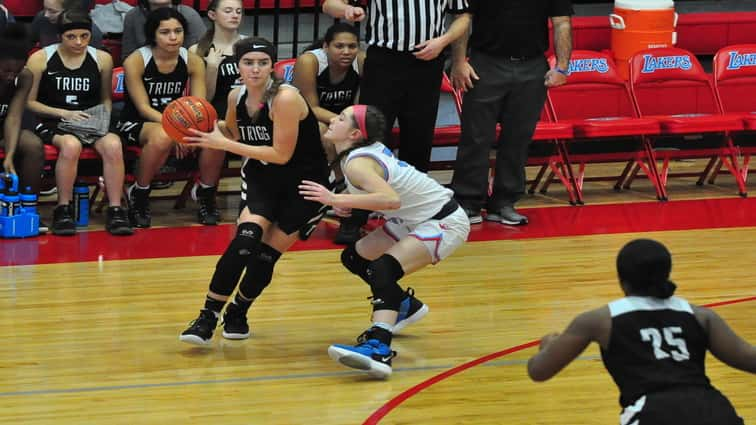 On a day when Charlee Settle became Calloway County's all-time leading scorer, the Murray State signee was the difference in the Lady Lakers' 51-31 win over Trigg County Sunday in the championship game of the Class 2A sectionals in Murray.
Settle's second half free throw moved her past Averee Fields to the top of the all-time scoring list with 2,451 points. She finished with 24 points and 12 reounds.
While Settle's big day was a key, the game was decided in the first 10 minutes as Calloway County scored the first 18 points and kept Trigg off the board in the first quarter. Trigg's first points came on an Olivia Noffsinger 3-pointer with 5:52 left in the half.
Trigg seemed to gain their footing a bit and trailed 23-8 at halftime. The Lady Wildcats cut the lead to 26-14 midway through the third quarter, but an 18-1 Lady Laker run that extended into the fourth quarter sealed the deal.
Trigg County only had six field goals — four of those behind the 3-point arc — in shooting 17-percent for the game. Calloway shot 36-percent, including 17-of-32 inside the arc. Calloway was also efficient on the glass, outrebounding Trigg 33-22.
The Lady Wildcats did shoot free throws well, hitting 15-of-22. Rylee Bush hit 9-of-10 at the line to finish with a team-high 11 points. Kara Hyde hit a pair of late 3-pointers to finish with six points.
Other than Settle, no other Lady Laker scored in double figures. Elle Carson scored eight before fouling out in the fourth quarter.
Calloway County (9-6) advances to the Class 2A State Tournament in Owensboro. They will play Marion County Friday.
Trigg County falls to 2-17 all-time against Calloway County, including 0-8 at Jeffrey Gymnasium. The Lady Wildcats also see their school record 10-game winning streak end. Trigg (15-3) will host unbeaten Madisonville Thursday.
Trigg County             0     8    6    17–31
Calloway County     12   11   14   14–51
Trigg County (15-3) — Bush 11, Hyde 6, O. Noffsinger 4, Phillips 3, E. Noffsinger 3, I. Grubbs 3, Reynolds 1
Calloway County (9-6) — Settle 24, Carson 8, Hicks 7, Waller 6, Clark 6